Cinco de Mayo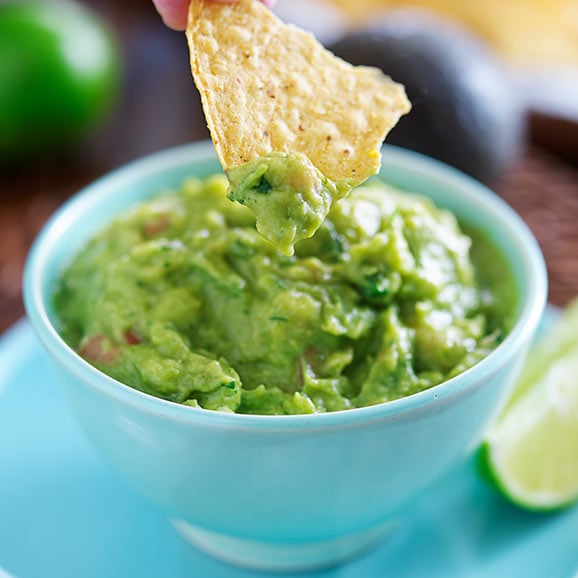 May 5 is the day to celebrate Cinco de Mayo, which marks the date of the 1862 victory of the Mexican Army over French forces at the Battle of Puebla. This holiday is not to be confused with Mexican Independence Day which is observed in September — Cinco de Mayo is more about Mexican culture. Which makes Cinco de Mayo the perfect opportunity to get your Mexican on and indulge in some of your favorite dishes (and those all-important margaritas). Most everyone is familiar with the main dishes — tacos, burritos, tostadas, enchiladas, etc., but here are a few of the most popular Mexican appetizers and where they came from…
Guacamole — This wildly popular dip is believed to have been created by the ancient Aztecs, and as is well known, its main ingredient is avocado (the fruit — yes, fruit — with the highest fat content of all). The Aztecs valued the avocado as much for its richness as its nutrients, and also because they believed it to be a powerful aphrodisiac. Whether that's true or not, guacamole's additional ingredients are generally influenced by the region of Mexico in which it is being prepared — the standard ones are cilantro, tomatoes, onions, sea salt, chiles, and a dash of lime juice (to preserve its green hue). Guacamole, of course, is almost always served with…
Tortilla chips — The official state snack of Texas, the tortilla chip owes its existence to the old adage, "necessity is the mother of invention." In the 1950s, Rebecca Webb Carranza, who with her husband owned the El Zarape Tortilla Factory in Los Angeles, noticed that some of their mass-produced tortillas were coming out of the machine in imperfect shapes; rather than discarding them, she hit on the idea of cutting them into triangles, throwing them into a fryer, and selling the result for 10 cents a bag. Genius! Tortilla chips also go perfectly with…
Salsa — like guacamole, we have salsa because of the Aztecs, who were the first to cultivate the tomato (another fruit that we think of as a vegetable). When the conquering Spaniards blew into Mexico in the early 1500s and first clapped their taste buds on tomatoes, salsa was a logical next step. The original salsa was made with tomatoes, ground squash seeds, and chili peppers, and served as a sauce on fish, poultry, and venison. How did salsa get its name? Well, we don't know how, but we do know who: Alonso de Molina, who is described as a Franciscan priest and grammarian, gave it that moniker in 1571.
So, how about a cocktail with those appetizers?
Margarita — this quintessential Cinco de Mayo libation is a combination of tequila, triple sec or Cointreau (both orange liqueurs, but Cointreau is usually stronger), and lime juice, with a generous amount of salt lining the rim of the glass. Bon Appétit recommends that margarita makers "look for the '100% de agave' legend on the label of your [tequila] bottle. If it isn't there, then up to 49% of your tequila is actually fermented cane sugar." Margaritas can also be made with a variety of other seasonal fruit flavors; without the alcohol for a "virgin" margarita; or mixed with crushed ice for a frozen margarita, and its automation is very recent — the first frozen margarita machine was cleverly adapted by a Dallas restaurateur from a soft-serve ice cream maker in 1971 — you can check it out at the Smithsonian.


Margarita
If Margaritas aren't your thing, you can skip all the other additives and just do straight tequila shots, or try one of these.
Chicago culinary giant Rick Bayless (whose Topolobampo is winner of this year's James Beard Award for Outstanding Restaurant) has often shared favorite recipes with host Phil Ponce on Chicago Tonight — if you would like to impress your friends at home, here is Rick demonstrating how to make a blood orange margarita with a Mexican-style shrimp cocktail, a black currant-rhubarb margarita, paired with bacon, green onion, and roasted tomatillo guacamole, and a raspberry lemongrass margarita with a Bloody Maria Coctel (a Bloody Mary with seafood).
Mexican eateries have, of course, been a huge favorite with Check, Please! guests over the years. As you plan your Cinco de Mayo celebration, here is a compendium of their reviews to help you choose a great restaurant option in your area: Antique Taco (Wicker Park), Bien Trucha (Geneva), Carnitas Don Pedro (Pilsen), Cemitas Puebla (Humboldt Park), Chilam Balam (Lakeview), Cilantro Cocina Mexicana (Homewood), El Barco (East Village), El Nuevo Mexicano (Lakeview), Estrella Negra (Bucktown), Flo (West Town), Gorditas Aguascalientes (Cicero), La Casa de Isaac (Highland Park), La Palapa (Archer Heights), La Pasadita (Ukrainian Village), Las Palmas (Wicker Park), May Street Cafe (Pilsen), Mercadito (Near North), New Rebozo (Oak Park), Nuevo Leon (Pilsen), Pozoleria San Juan (Humboldt Park), Salpicon (Old Town), Takito Kitchen (Ukrainian Village), Tio Luis Tacos (McKinley Park), and Wholly Frijoles (Lincolnwood).
Feliz Cinco de Mayo!