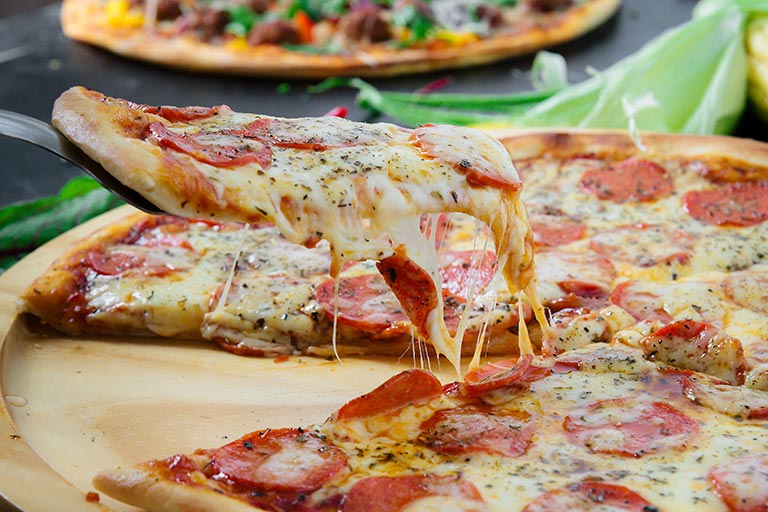 "When the moon hits your eye like a big pizza pie, that's amore."
— "That's Amore" (Harry Warren/Jack Brooks, as sung by Dean Martin)
Did you know that Americans collectively consume approximately 100 acres of pizza per day, which translates to 350 slices every second?
That each of us, on average, puts away 46 slices per year?
And that there are more than 60,000 pizzerias in the United States, selling more than three billion pizzas annually?
Pretty amazing, right? Yes, Americans have enjoyed a long love affair with pizza, ever since Italian immigrant Gennaro Lombardi opened the first U.S. pizzeria (actually, grocery store) in Manhattan in 1905. (Its location may have changed since then, but it's still in business today, reportedly using the very same oven.)
Is pizza really Italian? Well, yes…if you don't count the big, round flatbreads sold on the streets in ancient Greece. These were eaten plain or topped with oil, herbs, dates, and other non-pizza-like toppings. The word "pizza" didn't really enter the lexicon until tomatoes (and hence, tomato sauces) made their way to Naples in the 18th century, where they were spread on their version of flatbread and once again served up by vendors as fast food. For a very long time, pizza was considered lowbrow, a meal fit only for the working poor.
A royal visit to Naples in 1889 changed all that. King Umberto I and his queen, bored by the elaborate cuisine they were being served by their elite hosts, caught sight of the pizzas being consumed in the streets and the queen commanded her guard to procure some for her to try. Needless to say, she loved them, and after returning to the royal palace, the queen contacted a local pizza chef who dreamed up a special pizza just for her with toppings in the colors of the Italian flag — tomatoes, mozzarella cheese, and fresh basil. As you might have guessed, her name was Queen Margherita, and that pizza still bears her name.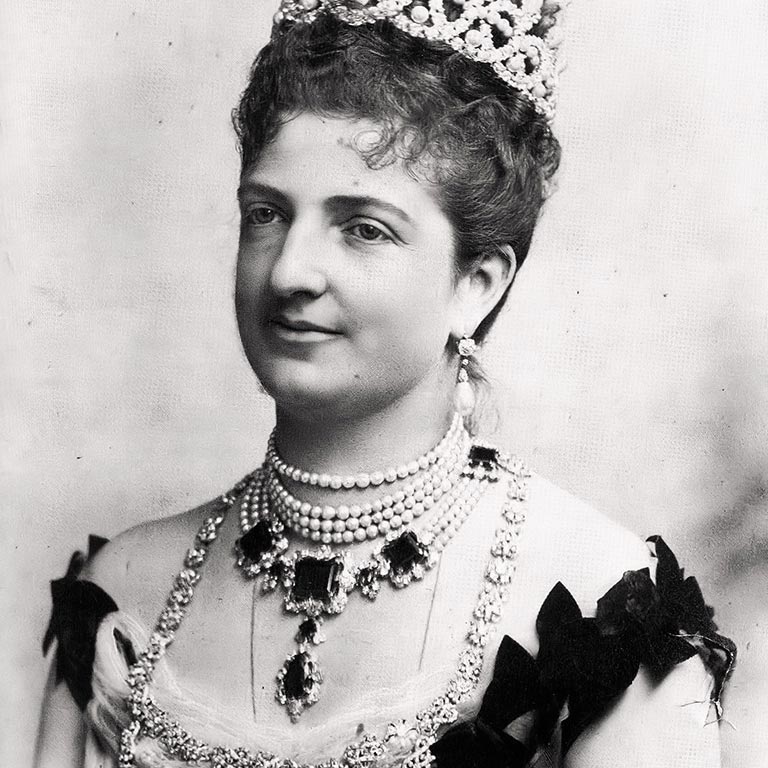 Queen Margherita di Savoia
(As a side note, Umberto was controversial and wildly unpopular with the Italian people, surviving two assassination attempts before succumbing to a third in 1900. Margherita, on the other hand, had the common touch, and made many public appearances in the provinces, hobnobbing with locals while decked out in native costumes. She lived until 1926, and must have been fun to be around.)
Once the queen put her royal stamp of approval on pizza, its popularity spread throughout Italy and around the world, thanks to immigrants and their recipes, and today, pizzas are made with a wide variety of toppings that are influenced by local tastes and the availability of ingredients. As food writer Gayle Turim summarizes, "The world of pizza has certainly expanded way beyond Margherita-ville."
Oh, and deep-dish pizza is known as "Chicago-style" for a reason — as most locals know, it was created at our own Pizzeria Uno in 1943. There is some confusion about who actually came up with the recipe (Uno's founder Ike Sewell or the restaurant's original chef Rudy Malnati), but the venue is not in dispute.
More fun pizza facts:
Most popular pizza topping? Pepperoni, by a mile. Approximately 37% of people order plain cheese, though. Weirdest pizza toppings, according to Thrillist, include grapes, peanut butter, an entire lobster, metal, and durian, "a fruit described by many as 'smelling like hot garbage.'" The latter topping is quite popular at a pizzeria in Queens, New York; breath mints are recommended.
The largest pizza ever made (December 1990 in Johannesburg, South Africa) measured 123 feet in diameter and was composed of 1,100 pounds of flour, 1,763 pounds of cheese and 1,984 pounds of tomato purée. The most expensive pizza ever made was a mind-boggling Valentine's Day creation which included toppings such as edible gold, medallions of venison, lobster marinated in cognac, sunblush-tomato sauce, Scottish smoked salmon, and caviar soaked in champagne. It cost $2,745. No word on whether it also came with flowers and candy.
Pizza delivery facts: the most popular delivery night is Saturday; as a rule, women are better tippers than men; and pizzas ordered during the evening news are generally called in during the weather segment. Most popular night of the year for pizza delivery? Super Bowl Sunday, followed by New Year's Eve, Halloween, the night before Thanksgiving, and New Year's Day. And the average pizza joint goes through approximately 55 pizza boxes daily.
Check, Please! reviewers have weighed in on many local pizza places over the years — hear what they had to say and give your local one a try: Antico Posto (Oak Brook), Burt's Place (Morton Grove), Calo Ristorante (Andersonville), Caponies Express (food truck), Caponies Trattoria (Dunning/Little Italy), Coalfire (West Loop/Near West Side), Davanti Enoteca (Little Italy), Flo & Santos (South Loop), Forno Rosso (Dunning), I Monelli Trattoria Pizzeria (Lincoln Square), Ignotz's Ristorante (Heart of Italy), La Madia (River North), Marie's Pizza (Albany Park), Piccolo Sogno (Near West Side), Piece Brewery and Pizzeria (Wicker Park/Bucktown), Tazza Italian Ristorante (Homer Glen), Three Aces (Little Italy), Union Pizzeria (Evanston), and Vito & Nick's (Ashburn).
Buon appetito!