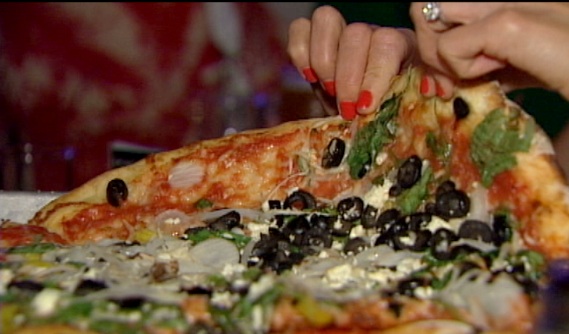 Piece
Friday, March 29, 8:00 pm
Every year we put together a compilation show featuring nine restaurants from the Check, Please! archives. This year's theme showcases some of our guests' favorite classic American comfort food from around the Chicago area.
From Superdawg in Norwood Park to Top Notch Beefburgers in Beverly to Piece Pizzeria in Wicker Park, we take you on a mouthwatering journey through some of Chicago's classic joints. Episode includes Superdawg, Top Notch, Piece Brewery, The Wiener's Circle, Charlie Beinlich's, Freddy's Pizza, Hot Doug's, Edzo's, and Caponie's Trattoria.
Each day this week, our 17 host finalists are stopping by Check, Please! HQ for some preparation for their big audition at the WTTW11 studios in a few weeks. Jacqui and I have had a blast getting to know the candidates a little better and we're both looking forward to seeing how they handle the trio of guests at the Check, Please! table.
Don't forget! You can see each finalist's video and bio by clicking here, and then vote on your favorite one. Feel free to also give us input on our Facebook page, or through Twitter.