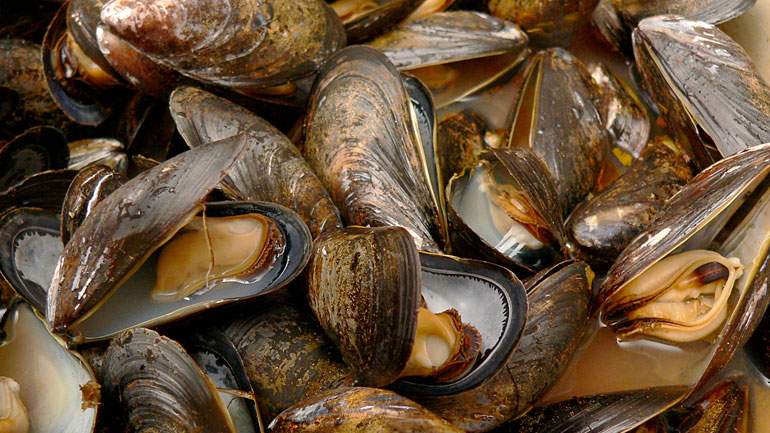 Ingredients for Fish Fumet:
4 pounds well rinsed fish bones
1 large white onion, chopped
4 tablespoons butter
3 cups white wine
1 carrot, chopped
1 fennel bulb with frond, chopped
1 orange, split and squeezed
1 whole leek, cleaned
1 head garlic, unpeeled and cut in half
15 sprigs Italian parsley
4 sprigs thyme
1 teaspoon toasted black peppercorns
½ teaspoon toasted fennel seed
2 bay leaves
5 quarts cold water

Directions for Fish Fumet:
1. In a large stockpot over medium heat, sauté onions, garlic, and fish bones in butter until bones are loose and broken and onions have softened slightly.

2. Increase heat to medium high. Add white wine and cook until liquid is reduced by half.

3. Add all remaining ingredients and bring to a boil. Reduce heat to a low simmer and cook for 30 to 40 minutes.

4. Strain through a fine sieve and set aside.

Ingredients for Garlic Aioli:
15 garlic cloves
3/4 cup canola oil
3/4 cup extra virgin olive oil
2 egg yolks
1 tablespoon lemon juice
Salt and pepper

Directions for Garlic Aioli:
1. In a small sauce pot, combine canola oil, olive oil, and garlic. Cook over very low heat until garlic is extremely soft. Cool and strain through a fine sieve reserving both garlic and oil. (Both should be completely cool before making the aioli.)

2. Combine garlic, egg yolks and lemon juice in a food processor. Process until ingredients are well combined. With machine running, slowly add garlic oil, allowing oil to become thoroughly emulsified before continuing to add more. The aioli's consistency should be that of a slightly thinned mayonnaise. If aioli is too thick, thin with a small amount of cold water. If it is too thin, add a small amount of canola oil with processor still running.

3. Pass aioli through a fine meshed sieve and season with salt and pepper. Aioli should be kept in the refrigerator.

Ingredients for Mussel Soup:
12 cloves garlic, peeled and thinly sliced
¼ cup extra virgin olive oil
1 large yellow onion, peeled and sliced
1 tablespoon chopped parsley
1 tablespoon chopped thyme
1 bay leaf
1 bulb fennel, coarsely chopped
1 ½ pounds new potatoes, cut into ½ inch slices
1 large can whole peeled tomatoes, strained of juice and coarsely chopped
1 gallon fish fumet
Pinch of saffron
Pernod
Salt and black pepper
Sriracha hot chili sauce
1 pound very fresh white flesh fish, cut into 1 ½ inch cubes (whitefish, pike, halibut, red snapper, or sea bass all work well.)
24 mussels, cleaned, scrubbed, and beards removed
10 basil leaves, cut into very thin ribbons
Garlic croutons
Garlic aioli

Directions for Mussel Soup:
1. In a heavy bottomed stock pot over medium heat cook onion, fennel, garlic, and potatoes in olive oil until onions are slightly softened.

2. Add tomatoes, saffron, and bay leaf and continue cooking for 10 minutes.

3. Add fumet and bring to a boil. Reduce heat to a low simmer and cook until potatoes and fennel are tender.

4. Add pernod and sriracha to taste. Season with salt and black pepper.

5. With soup still simmering, add mussels and fish. Cover and cook until mussels are opened and fish is cooked through. Remove mussels from shells.

6. Add cranberry beans, chopped parsley and thyme. Adjust seasoning if necessary. Serve with garlic croutons and garnish with garlic aioli and basil chiffonade.

Ingredients for Croutons:
16 slices of baguette, cut about 3/8 inch thick
Extra virgin olive oil
Salt and pepper

Directions for Croutons:
1. Preheat oven to 400° F.
2. Brush the baguette slices with olive oil and season with salt and pepper.
3. Bake until croutons are golden brown. Remove from oven.