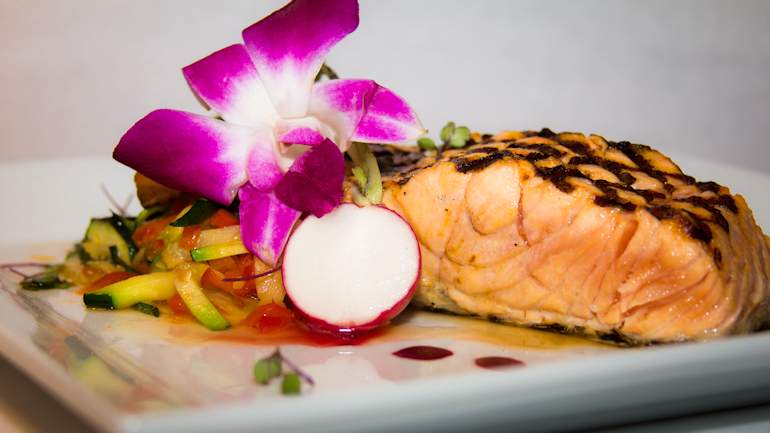 Chef: Yoshi Katsumura
Serving for 4 people
Ingredient List:
4 pieces of Salmon, 6-8 ounces each
2 tablespoons of olive oil
2 whole zucchini, Julienned
1 whole red pepper - Julienned
¼ tablespoon of garlic, chopped
4 tablespoons of Flour
Sea Salt
Black Pepper
Curry Powder
Sauce:
½ pound of butter
1 cup of white wine
1 whole red beet, Juiced
4 tablespoons of Miso (Soy bean paste)
1 tablespoon of shallots
2 tablespoons of fresh lemon juice
Salt
Cayenne pepper
Directions:
Pre-heat the oven for 450 degrees Fahrenheit.
Put shallots, white wine and beet juice in a sauce pan to reduce the amount to ¼ of the original.
Add miso, butter, salt, lemon juice and cayenne pepper to red beet sauce to simmer and strain it.
Season fish with sea salt & pepper, lightly dust fish with flour.
Sautee fish (skin side top) in a frying pan with ½ tablespoon of olive oil for 1-2 minutes or until turns golden color.
Turn over the fish (skin side bottom) then roast in oven for 4-5 minutes in 450 degrees Fahrenheit.
Sauté julienne of zucchini and red pepper with rest of olive oil and garlic, then season with curry powder, sea salt and black pepper.
Place sautéed vegetables in the middle of a plate, sauce around it and roasted salmon right on top of vegetables.
Enjoy!