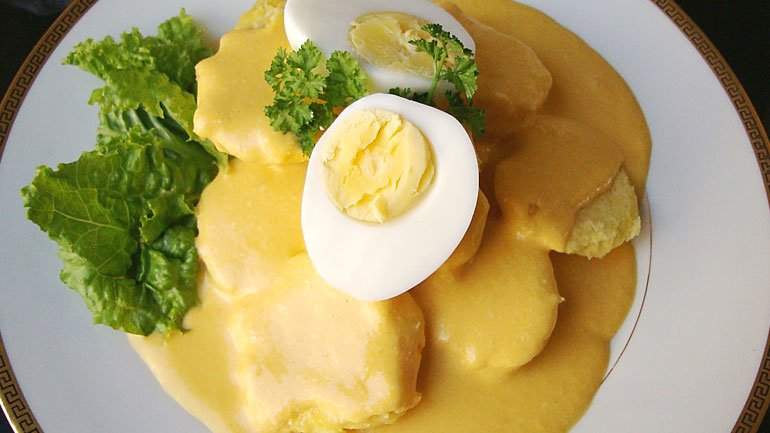 Ingredients:
½ cup chopped red onion
1 minced clove of garlic
5 ajies Amarillos (yellow peppers)
4 saltine crackers
½ pound of fresh white cheese
1 Cup evaporated milk
Juice of ½ key lime
Vegetable oil
4 hard-boiled eggs
Pinch of sugar
½ tablespoon of Tumeric
6 boiled potatoes
2 tsp chopped parsley
6 green or black olives per plate
6 lettuce leafs

Directions:
Boil potatoes with skins on, then peel. Seed, de-vien, and chop aji Amarillo. In a blender put the aji Amarillo, onions, garlic, crackers, two hard-boiled eggs, fresh white cheese, tumeric, sugar, evaporated milk. Blend together, adding enough vegetable oil to give the mixture a smooth creamy consistency. Add the juice of lime and blend a few seconds more. Adjust seasoning to your taste, adding more salt if necessary. Refrigerate or serve at room temperature.

To Serve:
Place lettuce leaves on each plate. Slice the cooled potatoes on the plate and cover with the sauce. Garnish with olives, half a hardboiled egg and sprinkle with parsley.