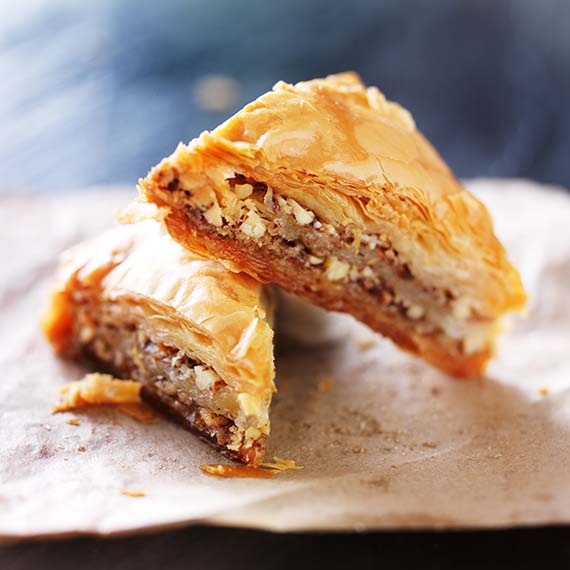 Baklava
"Standing there an hour alone I dreamt that Greece might once be free."
– Lord Byron
The people of Greece, along with their beautiful scenery and pleasantly temperate climate, enjoy one more distinction: each year in March, they mark a unique dual holiday that is celebrated by both the deeply religious and the happily patriotic.
Orthodox Christians observe the Annunciation, one of the great feasts of the Orthodox Church, when an angel appeared to the Virgin Mary and shared the news that she would be the mother of the Son of God. Also on this day, in 1821, Greece declared its independence after emerging victorious after a long and bloody revolution that freed them from 400 years of Turkish rule.
So, it's a good time to learn about Greek cuisine!
Greece's cuisine, in the true Mediterranean tradition, is notable for its use of fresh and healthy ingredients, including olives and olive oil, yogurt, wheat and barley, zucchini, eggplant, okra and a variety of other vegetables, fruits such as oranges and lemons, feta cheese, wine, and herbs. Honey, fruits, and nuts are often included in desserts, and pita bread is a staple.
As far as the calendar goes, this special holiday always falls in the middle of Lent, so the usual meats (lamb, pork, and poultry) are discouraged. However, fish is acceptable, and fortunately, there are a wide variety of other options on the menu and there is no limit or stipulation regarding alcohol.
This week, as you peruse the restaurant menu while sipping a nice glass of ouzo (anise-flavored liqueur) or retsina (rosé or white wine flavored with pine resin), you are likely to notice a ritual universal to Greek eateries in America (but, interestingly, not in Greece): servers lighting sizzling platters of cheese on fire while diners respond with a hearty "Opa!" This is saganaki – a tasty appetizer composed of, well, cheese (a firm variety that holds up in the heat, such as kasseri, graviera, kefalograviera, halloumi, or kefalotyri), that is marinated in brandy or ouzo, rolled in flour, pan-seared in olive oil, and set aflame in spectacular fashion and quickly doused with the juice from a freshly squeezed lemon. (Needless to say, don't try this at home without a fire extinguisher handy, and far away from your smoke detector.) This is served with fresh pita bread, as is another dish that is ubiquitous in other places, but not in Greece:
Gyros – this popular sandwich, familiar to anyone who frequents a neighborhood grill, is composed of strips of roasted lamb, seasoned with such spices as rosemary, marjoram, garlic, kosher salt, and pepper, garnished with onions. It is topped with tzatziki sauce – a mixture of yogurt, spices, and finely chopped cucumber and mint leaves – on grilled pita bread.
A couple of popular Greek dishes will remind you of Italian lasagna: Moussaka, which involves ground beef or lamb simmered in a tomato sauce, layered with eggplant and potato slices and a creamy white béchamel sauce (a roux of flour, butter, and milk), and baked. Pastitsio is similar in composition, but swap the eggplant and potato for a tube-shaped macaroni.
Also popular:
Souvlaki – essentially, shish-kebob; small pieces of meat and vegetables grilled on a skewer. These are often served wrapped in pita bread with tzatziki sauce.


Souvlaki

Spanakopita – spinach and cheese pie, with a phyllo (or filo) dough crust. The Greek translation of the name means "leaf" and it contains very little fat (being flour-based), in contrast to its close cousin French puff pastry, which is made with lots of butter. So, feel free to indulge.
Baklava – the Greek dessert, is actually present in numerous incarnations in other cultures (and spelled differently), first surfacing in English in the mid-1600s. That phyllo dough you used for spanakopita is the main ingredient here as well…in this instance, though, it's layered with chopped nuts and honey syrup flavored with cinnamon or orange.
There are many wonderful Greek eateries in the Chicago area, and not just in Greektown (Greek Islands and Santorini). Check Please! reviewers have also touted Athenian Room in Lincoln Park; Central Gyros on the near West side; Mythos Greek Taverna in Lincoln Square; Taxim in Wicker Park; Psistaria in Lincolnwood; and Log Cabin Steakhouse in Galena.
So get your Greek on and try one of these great places, or one of the many others in the Chicago area, and celebrate Greek independence. Opa!