Family owned and operated, Log Cabin is an American steak house with foods prepared in a Greek style. Their specialty: thick, tender, delicious chops, as well as a variety of delicious menu choices. The environment is cozy and the service excellent.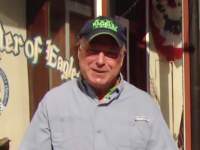 Alvin Spector
,
Alvin recommended Log Cabin Steakhouse and says it's almost like going to someone's home for dinner.<br><br>

See all of the restaurants featured on <a href="/video/episode/1313"><em>Check, Please! Touring Illinois</em></a>.
Alvin recommends:
Alvin Spector

Hours
Opens at 4:00 pm daily
Reservations
Reservations accepted