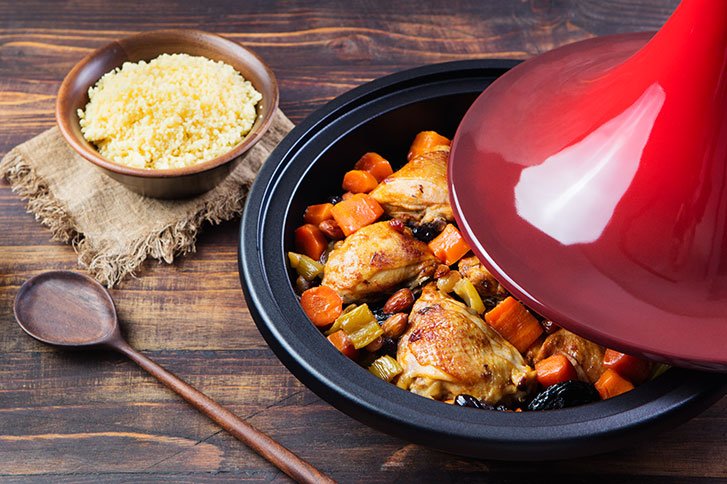 Tagine
Beginning with the first sighting of the crescent moon this past Saturday evening, Muslims all over the world celebrated the end of the holy month of Ramadan and commence the month of Shawwal in this Islamic year of 1438 by embarking on the three-day Eid al-Fitr, or "Festival of Breaking of the Fast." After a month of forgoing all food and drink each day between the early morning meal (Sahoor) and the evening repast (Iftar), the elaborate feast that is central to this important religious observance is a welcome and happy event that signifies "the mercy of God." (In addition to sharing a delicious meal of halal foods, Muslims are encouraged to "forgive and forget" any differences they may have had with others during the previous year.)
What is halal? The word means "permissible" (its antonym is haram, which translates to "forbidden"), and its foods and anything that comes into contact with them must adhere to Islamic law according to the Koran (similar to Kosher in the Jewish faith). These restrictions mostly apply to how the animal is raised and slaughtered (cleanly and humanely), and most meats (except pigs/swine), poultry, fish, and other seafood can be considered halal as long as they are prepared without exposure to alcohol or lard. Some watchwords: clean, pure, humane. Confused? Here are some specific guidelines. As you can probably see, foods do not have to be Middle Eastern in origin to be halal – there is halal pizza, burgers, chicken, anything vegetarian, etc. But there are special foods for Eid al-Fitr, which is also known as "Sweet Eid," as many of its options are sweet ones (but there is also Eid-ul-Adha ("Salty Eid"). What those options might be varies greatly, depending upon where you are celebrating. Here are just a few that are fairly universal:
Sheer Khurma ("milk with dates") – This is a milky white Persian "pasta pudding" traditionally made with vermicelli, and is generally served as a mainstay to the family for breakfast on the first morning of Eid, and shared with guests throughout the day.
Barfi – Another popular milk-based sweet is Barfi. Its name comes from the Persian word "barf" (seriously) which means "snow." There are many varieties of it, but its main ingredients are condensed milk and sugar, to which is added fruits such as coconut or mango; nuts including ground peanuts, cashews, or pistachios; and spices (the most popular by far is cardamom, but rose water is also used); and coated with an edible metallic leaf called vark. It is served cold, and is suitable for festive occasions and for dessert at casual dinners.


Barfi

Rasmalai – If you are gluten-free, this is the dessert for you. Rasmalai is from the Indian state of Bengal, and is composed of cottage cheese (the Indian version is chhena) formed into balls and dunked in Ras, a milk syrup. If you can handle gluten, there's a variation called Rasgulla, in which the balls are rolled in semolina dough before dunking (or you can use a gluten-free semolina flour).
Kebabs – Pretty self-explanatory if you're at all conversant with your barbecue grill. Lamb is especially popular, served with vegetables and rice, but other halal meats are great as well.
Biryani – This South Asian and Indian dish is especially popular among Muslims in the United Kingdom. It's another meat, vegetable and rice (a long-grained rice like Basmati is preferred) dish, but with much heavier and spicier seasonings mixed in with the rice, which can include anything from green chiles, saffron or turmeric, coconut, cinnamon, nutmeg, or the ever-popular cardamom.
Tagines – A North African stew, composed of halal meats, spices and vegetables, served over separately cooked couscous. Each country in the region seems to have its own variation, based on the local ingredients that are available.
Speaking of local, how about Chicago? Here's an upcoming event that celebrates the end of Ramadan:
Eid Fest at Willowbrook Park in Villa Park, Friday through Sunday, July 7-9 – This annual carnival includes two nights of fireworks, a shopping bazaar, halal food vendors, and rides, entertainment, and other activities for all ages.
And, you can always try some of the restaurants we have reviewed on Check, Please! Here are just a few: Alhambra Palace (West Loop), Al Bawadi Grill (Bridgeview), Fogo de Chao (River North), Noon O Kabab (Albany Park), Kabul House (Skokie), Khan BBQ (Devon Avenue), The Nile (Hyde Park), and Sayat Nova (Gold Coast).