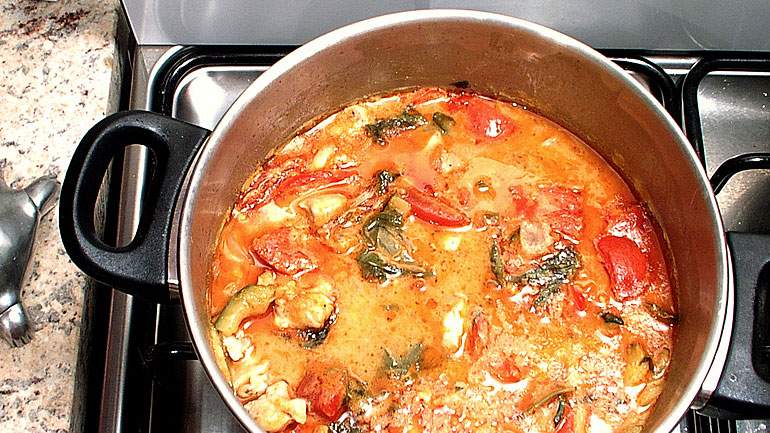 Ingredients:
15-20 Dry Red Chili Peppers
5 Cups diced Medium Onions
10 Cloves chopped garlic
1 Stalk Lemon Grass
4 pcs Galanga Root
¼ Tbsp Shrimp Paste
2 Cans Coconut Milk
1 Cup Water
1 tsp Basil
2 Jalapeno pepper
¼ cup Sea Salt
½ tsp Sugar

Directions:
In the electric blender, grind together the dried chiles and salt. It should be smooth with just a hint of chile pieces. Add the garlic cloves and blend until smooth. Cut off the very root end of the lemon grass. Remove outer leaves and discard. Cut the lemongrass crosswise into 1/8-inch pieces with a very sharp knife. Add to the ground chiles, along with the galangal root. Blend again until smooth. Add the shrimp paste and blend together.

Pour the coconut milk into a medium-sized pot. Add the curry paste and stir to blend. Bring to a boil over medium-high heat. Add the chicken. Boil 6 minutes until the chicken is cooked. Garnish with cilantro leaves if desired. Serve with Thai jasmine rice.