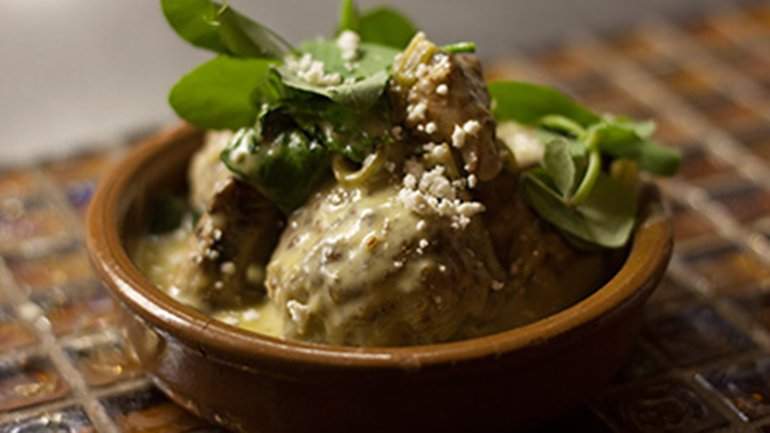 Chef: Natalie Oswald
Meatballs:
1 pound of ground duck
3 hard boiled egg whites
½ cup of cooked white rice
1 tablespoon of fresh chopped mint
Salt
Pepper
Directions:
Cook the eggs until hard boiled, cool and peel. Discard the yolk and finely chop the white. Fully cook the rice in water, let cool. In a large bowl, combine, ground duck, egg whites, cooked white rice, chopped mint, salt and pepper. Mix until fully combined. Bake at 400 degrees Fahrenheit for 15 minutes or until cooked through.
Jalapeno Cream sauce
2 Jalapenos
1 head of roasted garlic
32 fluid ounces of chicken stock
1 pint of heavy cream
1 teaspoon of black peppercorns
1 teaspoon of Mexican oregano
½ teaspoon of dried thyme
½ teaspoon of coriander seed
½ cup of masa or masa harina
8 sprigs of fresh cilantro
1 cup of sour cream
Directions:
Blister the jalapenos in a hot sauté pan until the skin is dark on all sides. In a blender combine the jalapenos, roasted garlic, black pepper, oregano, thyme, coriander, and half of the chicken stock. Puree until smooth. Strain the mixture through a strainer into a sauce pot. Bring the sauce to a boil, add the heavy cream, boil. Reduce the heat to a slight simmer and skim off any excess fat that floats to the top. If using masa harina (maseca) add water to the flour to form a thick paste. Add the masa to the blender with the remaining chicken stock and puree. Strain the liquid into the sauce, stirring constantly. Once the sauce has thickened, add the cilantro to the blender with enough cold water to puree. Strain the cilantro into the hot sauce and remove from heat. Re-blend the entire sauce adding a little sour cream to each blender full.
Season with salt and sugar.
Once the meatballs come out of the oven, serve them smothered in the sauce with your favorite grilled mushrooms, queso fresco, warm tortillas, and baby greens.