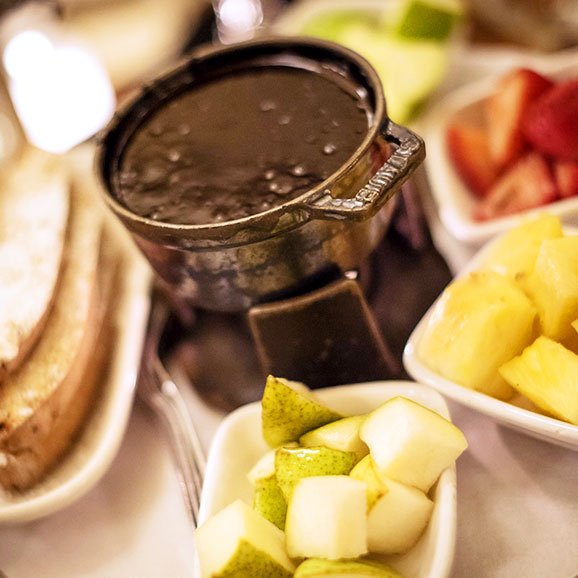 Chocolate fondue with fruit
Say the word "fondue," and most Americans are instantly transported back to an age of leisure suits, pet rocks, and disco – and a time when your kitchen décor and appliances incorporated such trendy hues as avocado green, burnt orange, and harvest gold. But today, as communal dining has become increasingly popular, it's only natural that fondue has returned to the restaurant (and party) scene.
The word "fondue" comes from the French fondre ("to melt") and it refers, fittingly, to a pot (or caquelon) containing a mixture of melted cheeses (or other substances, see below), alcohol, and a dash of flour to keep the cheeses from separating. The pot is set in the center of the dining table, surrounded by dishes of cubed bread, meats, seafood, chicken, and vegetables which are impaled on long forks or skewers and dipped into the mixture. Also popular is a dessert fondue, where the cheese is replaced with warm melted chocolate, into which are submerged bits of cake, marshmallows, fruits, and…really, anything imaginable that works well coated with chocolate – the sky's the limit! In addition to cheese and chocolate, it's not uncommon to see fondues composed of hot oil or broth (this originated in China) laced with wine.
Perhaps it's not surprising that something that today is considered the centerpiece of a fun and slightly decadent dinner party originated, as so many things do, out of necessity. Although the Greek poet Homer, in The Iliad, referred to a concoction ("goat's cheese, wine, and flour") that may allegedly have been used as a form of fondue, the practice appears to have been devised in Switzerland in the 18th century as a means to make good use of cheese and bread during the winter that may have hardened since the warmer months when they were created. Melting the hard cheese and softening the hard bread in the warm, gooey mixture made for a pleasant and palatable meal for a group who could sit down and eat it together.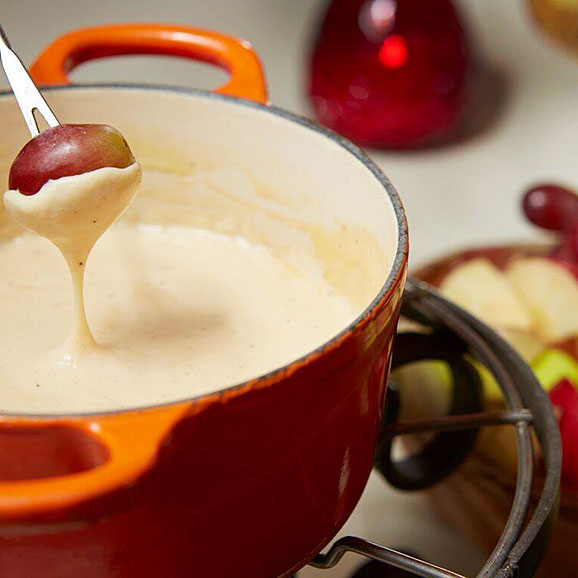 Cheese fondue at Geja's
What are the most appropriate cheeses for fondue? The traditional Swiss version is often composed of Gruyere and Emmenthaler cheeses; if these are not readily available, a combination of medium-textured sharp and mild cheeses will work, combined with white wine or (for more distinction) a flavored brandy.
Is there a special technique for dipping? Not precisely – it's important to make sure the item being dipped is thoroughly coated, but not saturated to the point of it disintegrating; fondue legend has it that if a diner loses his or her bread, meat, or fruit in the pot, they must either pick up the check for the table (if dining out) or kiss the person seated beside them.
Before lifting your dunked item out of the pot, twirl the fork a bit so the fondue doesn't drip all over the table (and you). Also, for a variety of reasons, it's advisable to deposit your dunked item on a plate rather than try to eat it directly from the skewer.
One last tip, according to Alpenwild: "Rather than mopping up the last bit of melted cheese from the bottom of the pot, let the flame continue to cook the cheese on the bottom of the pot so that a dark crust forms. This crust is called the religieuse, and when chipped away from the pan and served up at the end of the meal it's considered a delicacy."
Where can you enjoy fondue in Chicago? A diverse trio of establishments has been reviewed on Check, Please! – the sultry and intimate Geja's Cafe in Lincoln Park, a popular destination for couples celebrating Valentine's Day; the authentic Italian eatery Quartino on the near north side, also known for tapas (small plates); and Uptown favorite Hai Yen, where you can cook your own Vietnamese cuisine in a broth-filled fondue pot right at the table, to your own taste.
Fondue is a great way to socialize with friends and neighbors while enjoying a variety of sumptuous small bites in a warm and inviting setting, especially during a cold Chicago winter. And for those who love all things retro, it certainly bears out the adage that "everything old is new again."