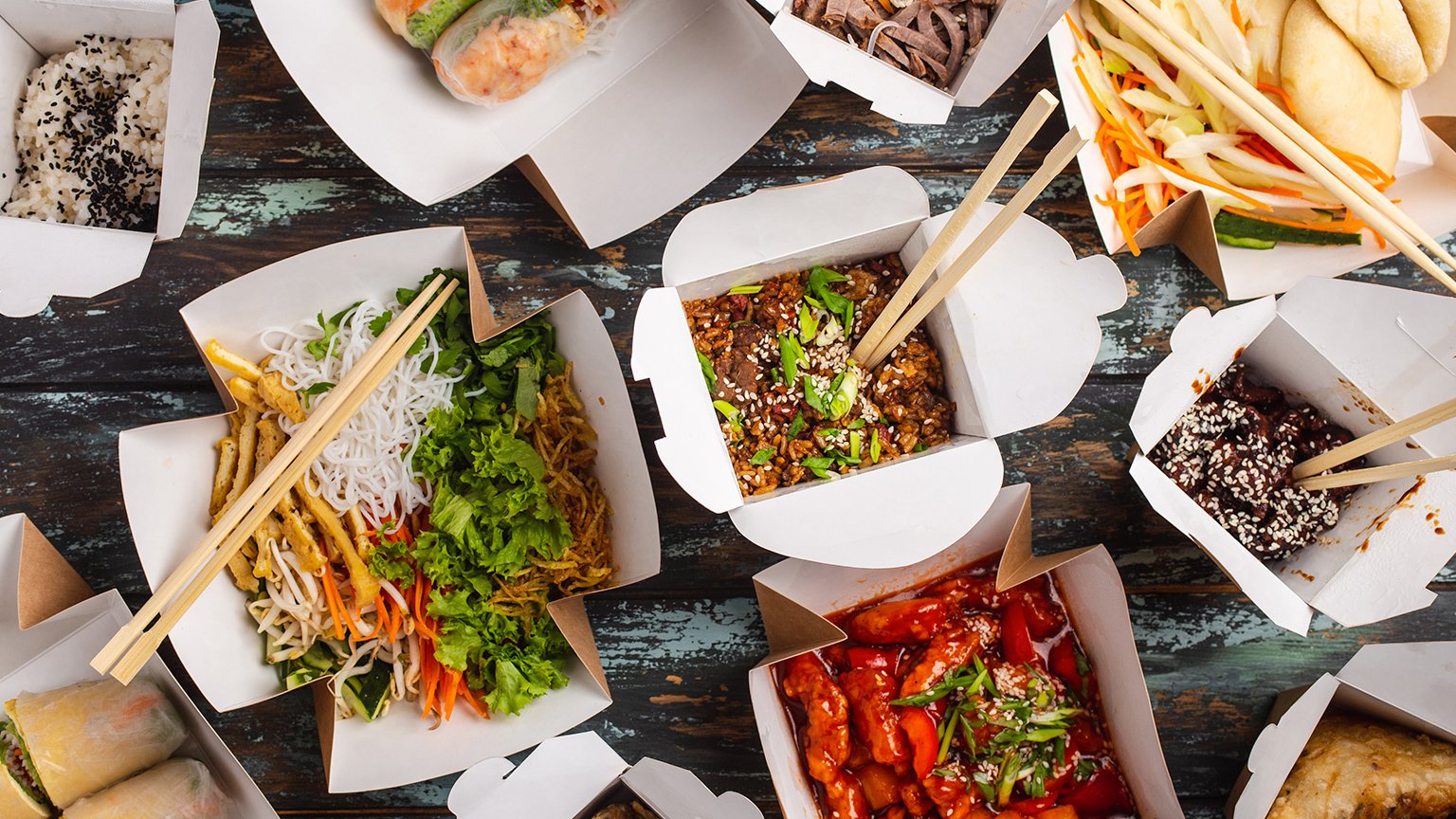 Chicago's stay-at-home order has undeniably presented daunting challenges for many businesses. But perhaps no industry has been affected in quite the same way as restaurants, which, after all, depend for their survival on patrons congregating in their dining rooms – soaking in the ambiance, spending their hard-earned money on freshly prepared food and libations, being waited upon by servers, and lingering over dessert and coffee with no dishes to wash afterward. All of it a definite no-go in this time of coronavirus.
Therefore, restaurants have had to get creative in the ways that they attract and retain customers, and have been relying on takeout and delivery to keep them afloat – even some eateries that might not ever have considered it under normal conditions. Which got us to thinking: how long has takeout been around, and when and how did meal delivery become a thing?
Turns out, getting food to go is nothing new. In fact, for much of human history, many working class people didn't have their own kitchens, or the time to do anything in them if they did. Therefore, "takeout" dining might have been the norm, and walk-up food vendors reaped the benefits, feeding untold numbers of hungry Greeks, Romans, Aztecs and others in early civilizations who needed to grab a quick bite on their way from one ancient task to another. (Whether or not the cavepeople did so is a matter of conjecture, but we can guess that they would have if it had been an option). Bonus points for the takeout crowd if said foodstuff could be consumed in motion – this could explain such innovations as the calzone, the tamale, the empanada, and that popular Texas creation, Frito Pie. And we already know that convenience was the impetus for the invention of the sandwich. Also, of course, the diner started out as a walk-up food truck for the convenience of workers on the night shift, until someone decided that it would be nice to offer seating.
For generations, especially in the United States, most takeout establishments were associated with train, trolley, or bus stations – a place to pick up a quick meal to be eaten while in transit. During Reconstruction shortly after the Civil War, Black women found these terminals an excellent way to bring in much-needed income by selling home-cooked meals to hungry travelers. And later in the segregated South, Blacks often had no alternative, at many dining establishments, but to get their meals to go.
But what of meal delivery? As it happens, that isn't exactly a modern concept, either. As early as the 1700s, upscale restaurants and hotels catered (literally) to well-to-do diners by packaging meals for servants to pick up for their employers. This was followed by the eminently portable boxed lunch that could be "put up" for individuals or in bulk for groups and delivered to homes, businesses, and picnic sites. These lunches, then as now, were usually composed of cold sandwiches, salads, and small desserts such as Bertha Palmer's Brownie.
Home meal delivery really took off in America beginning in the early 1950s because of a life-changing invention: television. Prior to the advent of VCRs, DVRs, and internet streaming, a family would stay home rather than miss their favorite TV shows. Restaurants adapted to this trend by instituting meals on demand and acquiring a fleet of delivery vehicles. Before long, most homes had accumulated numerous takeout menus, with a world of food just a telephone call away. And why sit stiffly in the dining room when you could dine on folding metal TV trays in front of the set, so you didn't miss any of the action?
It may not surprise you that two foods quickly rose to the top of the takeout and delivery heap: pizza and Chinese food. Delivery service of both apparently started in Los Angeles. Chinese food was first, at the Kin-Chu Café in the early 1920s, which offered extended late-night service. By the way, those distinctive bucket-like cardboard takeout containers were originally known as "oyster pails," (so called because they were originally used as carrying containers for shucked oysters) and were designed to double as a plate – just pull the folds apart, flatten, and enjoy. (This is also true of those little white pleated ketchup cups.) If you have food left over, you can fold the sides back up and refrigerate for your next meal. You might not want to try this with soup.
As far as pizza goes, in the mid-1940s, a Los Angeles pizza place named Casa D'Amore commenced offering what might be the first instance of pizza delivery, free if your order met the $2.50 sales minimum (not a problem today). Pizzas were originally delivered on cardboard discs in flat, flimsy paper bags, but the invention of the pizza box (usually credited to Tom Monaghan, founder of the Domino's Pizza chain) allowed the delivery man to stack the pies in his vehicle without worrying about moisture or grease degrading the container or the pizza being crushed – the box also helped to keep the pizza hot while enroute.
If you still want to prepare your own meals but don't have a sous-chef (or want to do the work of one), there are numerous companies that will deliver a ready-to-cook meal, with all the ingredients and how-to instructions included. Just the thing to develop some new skills while impressing the family with your culinary expertise.
So, if you're over the whole cooking and washing up routine and are, as of yet, leery of social-distanced alfresco dining, call or go online and order from your favorite local restaurant if they offer pickup or delivery. Your chosen eatery will appreciate your patronage during this time. Maybe you can eat it while watching WTTW!