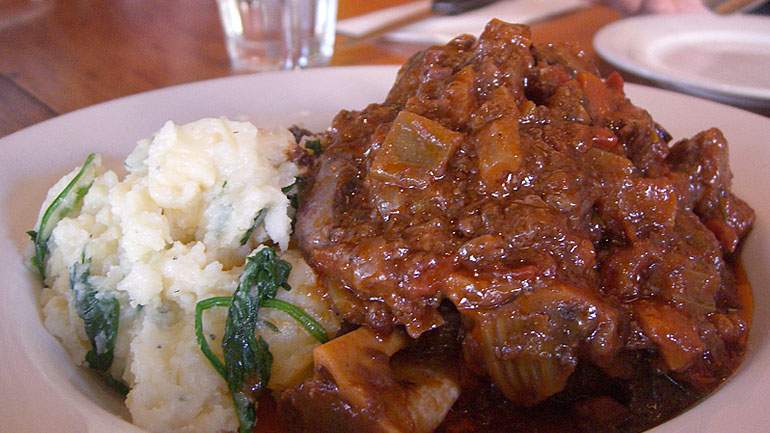 Ingredients:
4 8-10 ounce lamb shanks
2 cups flours
2 tablespoons chopped fresh garlic
6 ounces full bodied red wine
10 ounces beef stock
2 potatoes peeled and quartered
1 sprig rosemary chopped medium fine
2 med. sized onions, cut in ¼ inch strips
salt & pepper

Directions:
Heat oil in a large skillet. Dredge the lamb shanks in flour and pat off the excess flour to prevent burning. Place shanks in oil and brown on all sides for about 3-4 minutes. Remove shanks and place in roasting pan that will accommodate their size. In the same oil, place onions, potatoes and garlic and sauté for a good 10 minutes. Drain any excess oil off onions and add them to the top of the shanks. Add wine, beef stock, salt, pepper. Cover with a lid and roast in 400° F oven for approximately 2 hours. When the meat pulls away from bones with no problem, then they are done. Turn up oven to high setting, uncover shanks and cook a couple of more minutes until browned and crusty.