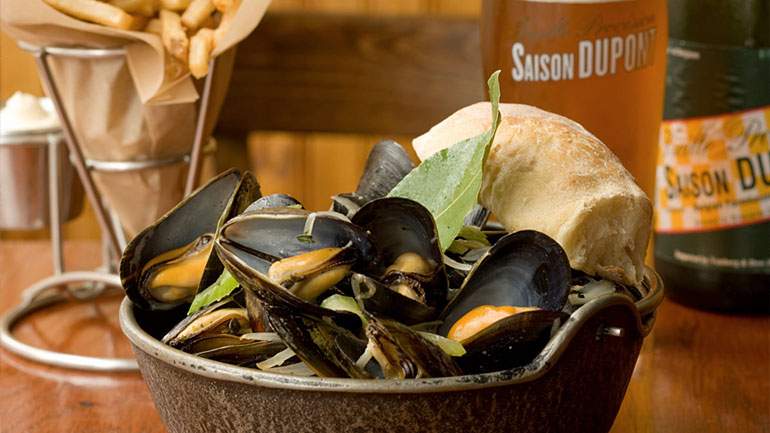 Preparation Time: 10 Minutes
Cooking Time: 6 Minutes
Yield: 4 Servings

This recipe is adapted from Michael Roper, owner of Hopleaf Bar in Andersonville. Serve these mussels with plenty of good bread for sopping up the cooking juices and wash them down with a cold, Belgian wheat ale, such as Witterkerke (which you can also use for cooking the mussels).

Ingredients:
2 tablespoons olive oil
2 shallots, sliced
1 small rib celery, thinly sliced
2 pounds mussels, cleaned, debearded
1 bottle (12 ounces) Belgian wheat ale
¼ teaspoon fresh thyme leaves or 1/8 teaspoon dried
1 bay leaf
2 tablespoons butter
½ teaspoon salt
Freshly ground pepper

Directions:
1. Heat oil over medium-high heat in a large skillet; add shallots and celery. Cook until softened, about 5 minutes.

2. Add mussels; add beer, thyme, bay leaf, butter, salt and pepper to taste. Cover. Cook until mussels are open, about 4-6 minutes, keeping pan moving frequently. Discard mussels that do not open. Serve in shallow bowls.