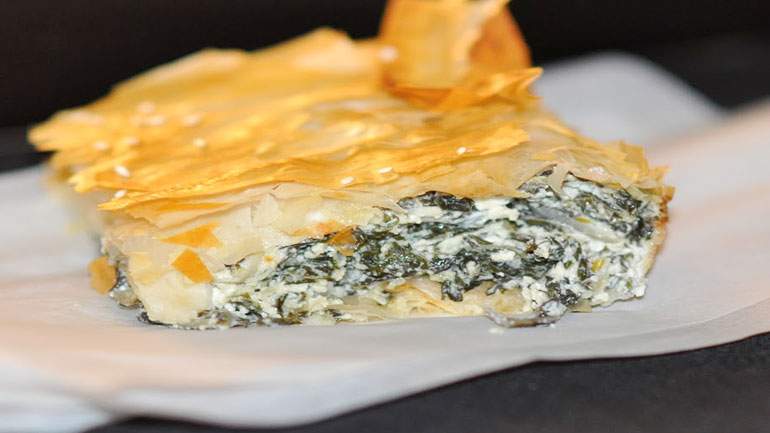 Ingredients:
2 lbs Fresh Spinach - chopped
1 lb Onions - chopped
2 Bunches Fresh Green Onions - chopped
1 lb Feta Cheese - crumble
5 Eggs
1 Cup Olive Oil
1 lb filo Dough (comes in sheets)
1 Bunch Dill - chopped
1 Teaspoon Ground Pepper
1 Melted butter

Directions:
Sauté the onions in the olive oil till browned.
Add the Spinach and cook for 5 minutes
Mix in the eggs, Feta Cheese, pepper, and Dill.

Making the Pan:
Layer the bottom and sides of the pan with a filo dough (5-8 sheets). You should layer the dough so that when we finish stuffing with the spinach, you can wrap the dough around the stuffing to seal in the spinach. You can butter between every few sheets of the dough. Add the spinach stuffing and wrap the dough. Brush with butter or olive oil.

Preheat your oven to 300° F. Please note, every oven is different and you may have to increase or decrease the temperature. Baked the pan for about 1 hour, when you will see the dough change to a golden brown color.