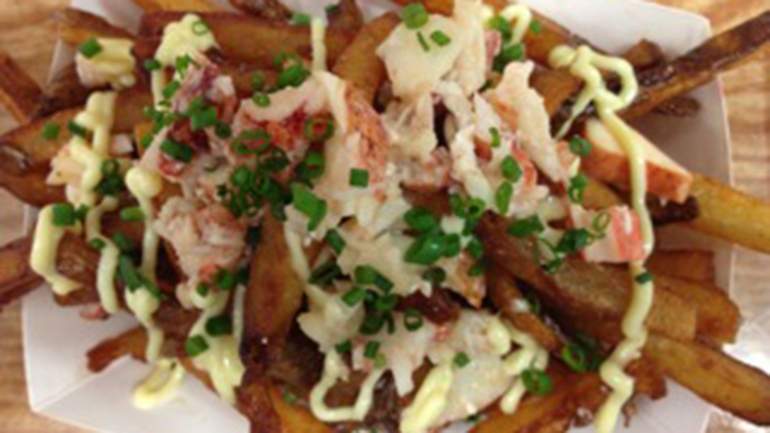 Servings for 4 People
Ingredient List:
One, 1 ¼ pounds of live Lobster
2 Idaho Potatoes
¼ pounds of butter, unsalted
1 bunch of fresh Chives
2 quarts of canola oil
Sauce:
8 ounces of mayonnaise
1 large lemon
2 cloves of garlic
¼ tablespoon of Saffron
Salt & Pepper to taste
Equipment List:
One 6 Quart Sauce Pot with Lid
One 1 Quart Sauce Pot
1 Large Mixing Bowl
Chef Knife & Cutting Board
Citrus Zester
Wire Whisk, Tongs, Strainer
Candy Thermometer
16 ounces Plastic Squirt Bottle
Directions:
To prepare the sauce, first dice 2 cloves garlic with pinch salt then work into paste using side of chef knife. Zest the lemon and juice the lemon, discarding seeds. Reduce the juice in small sauce pot by half with saffron and chill.
Mix the mayonnaise, garlic paste, lemon zest and saffron lemon juice reduction with wire whisk, add salt and pepper to taste. Place in plastic squirt bottle.
Bring 4 quarts of salted water to boil in large sauce pot with the lid on. Place the live lobster(s) in pot with lid and cook for approximately 9 minutes at full boil. Remove the lobster(s) using tongs and immediately place in large bowl filled ¾ 's with half ice and half water (this, known as shocking will stop the cooking process).Chill for approximately 3 minutes and then, drain off ice and water and place lobsters in refrigerator.
Pour the water out of large pot, dry pot of any liquid then fill with 2 quarts of canola oil. Using a candy thermometer, bring oil up to 300 degrees Fahrenheit.
Leaving the skin on, cut the potatoes into ¼ inch slices lengthwise, then ¼ inch strips, also lengthwise. Place these raw potatoes in cold water. Drain then blanch potatoes in 300 degree oil for 6 minutes then remove with strainer and refrigerate.
Using the candy thermometer again, bring oil temperature up to 350 degrees Fahrenheit. Slice chives and reserve for garnish.
Remove the lobster(s) from refrigerator, drain any excess liquid and proceed to remove meat from shell and then cut the meat into ¼ inch pieces. Mix tail, claw and leg meat together then separate into 2 equal portions.
Fully melt the butter in small sauce pot making sure not to boil.
Remove the potatoes from refrigerator and fry in 350 degrees Fahrenheit oil for 6-8 minutes depending on desired doneness. Remove fries from oil, again using strainer, then toss with salt in metal bowl with all melted butter, that you had prepared previously, and half of portioned lobster meat. Place the fries in four bowls using tongs, trying best to equally distribute the meat amongst the fries.
Using squeeze bottle, squirt sauce decoratively over portioned fries. Equally place remaining lobster meat atop portioned fries and sprinkle garnish with chives.