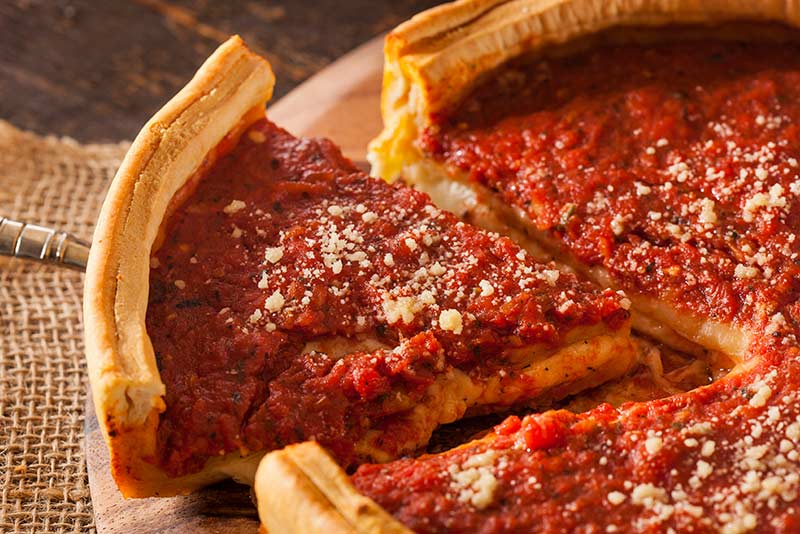 Deep dish pizza
"Hog Butcher for the World."
— Carl Sandburg
This Sunday, the city of Chicago celebrates its 181st birthday. If you were throwing the party and wanted to serve only foods that came into being in Chicago, what might those be? As it turns out, not only would you eat very well (and heartily!), but some of your options might come as a bit of a surprise. Here's the menu…
Deep dish pizza: This is arguably Chicago's most famous culinary innovation, and as most locals are aware, it was invented in 1943 at Pizzeria Uno. There is some confusion about who actually came up with the recipe (Uno's founder Ike Sewell or the restaurant's original bartender Rudy Malnati), but the venue is not in dispute. You can still enjoy deep-dish there, but it's by no means the only place to find it in Chicago. As a side note, the pizza puff — that deep-fried, pleasantly greasy, golden brown, rectangular pastry filled with hot, gooey pizza toppings — also came into being here. We're told they are especially good if you've been drinking. Not that we would know anything about that.
Chicago-Style Hot Dogs: If you've ever passed through the Windy City, chances are you have been to a Vienna Beef stand and had a Chicago-style hot dog (this category is called "encased meats," which doesn't sound very appetizing), which is made of beef and "dragged through the garden." That means that along with your hot dog and your steamed poppy seed bun (probably S. Rosen's brand, made, like Vienna Beef, in Chicago), the sandwich is piled with tomato wedges, onions, peppers, green relish, and a dill pickle, and topped off with celery salt, mustard, and NO KETCHUP. A few years back, Heinz tried to get around this rule by rebranding their ketchup as "Chicago Dog Sauce," but true Chicagoans greeted it with derision.


Chicago-style hot dog

Italian Beef: This Chicago mainstay came out of the cooking traditions of — surprise! — Italian immigrants, and Al Ferreri opened Al's Beef in 1938. Nobody knows if it was Al who invented the sandwich, but there's no doubt that he and his family have made a great living from it — today, there are twelve Al's Beef emporiums in Illinois, and more than 300 area eateries that serve Italian beef overall. Have it on a stout Italian roll (most likely from Gonnella Baking Company in Aurora), "wet" with extra gravy, and some giardiniera on top. (Here's a food that sounds Italian but comes from Chicago: Chicken Vesuvio.)
Brownies: These, along with hot dogs and Cracker Jack, were introduced at the 1893 Chicago World's Fair. (There's a reason why this seminal event is represented by one of the stars on the Chicago flag.) Bertha Palmer (of the Palmer House Hotel) asked the chefs to create a compact dessert that was small enough to fit in a boxed lunch for fairgoers. The original brownie included chopped walnuts and was topped with apricot jam, and they are still on the menu at the Palmer House today.
Saganaki: If you thought this flaming cheese appetizer originated in Greece...you're right. But it was Chris Liakouras at the Parthenon Restaurant in Chicago's Greektown neighborhood who began the tradition of serving it aflame at your restaurant table. Opa! (Speaking of Greek foods, while it's true that the gyro sandwich did not originate here, it was another Chris, Chris Tomaras, founder of Kronos Foods in Chicago, who invented the Kronomatic vertical rotisserie which enabled the gyro meat to cook evenly while customers watched.)
Twinkies : Schiller Park baker James Dewar came up with the idea of these yellow sponge cakes in 1930, and after experimenting with banana cream, eventually arrived at the vanilla filling that is an integral part of Twinkies today. The name comes from a brand of ballet slippers that Dewar saw advertised on a billboard ("Twinkle Toes"). Speaking of desserts, frozen pound cakes and pastries also originated in Chicago, created by (who else?) Sara Lee. ("Nobody Doesn't Like Sara Lee.")
Jibarito: This tasty Puerto Rican sandwich is the most recent entry on this list: it was originally introduced in 1996 by Humboldt Park restaurateur Juan "Peter" Figueroa at his own Borinquen Restaurant, and its most distinctive feature is that it features fried and flattened plantains instead of bread. Fillings can vary, but they generally include meats, cheeses, tomatoes, mayonnaise, and lettuce. Its name means "little yokel."
Garrett's Popcorn "Chicago Mix": a tasty cheese-and-caramel blend, this is the official snack food of Illinois. But if you've seen the long lines outside every store, you probably already knew that.
There are plenty of others, given Chicago's rich and diverse culinary history, but give these a try…and be sure to stock up on antacids. You'll need them.
Happy birthday, Chicago!