New Mexico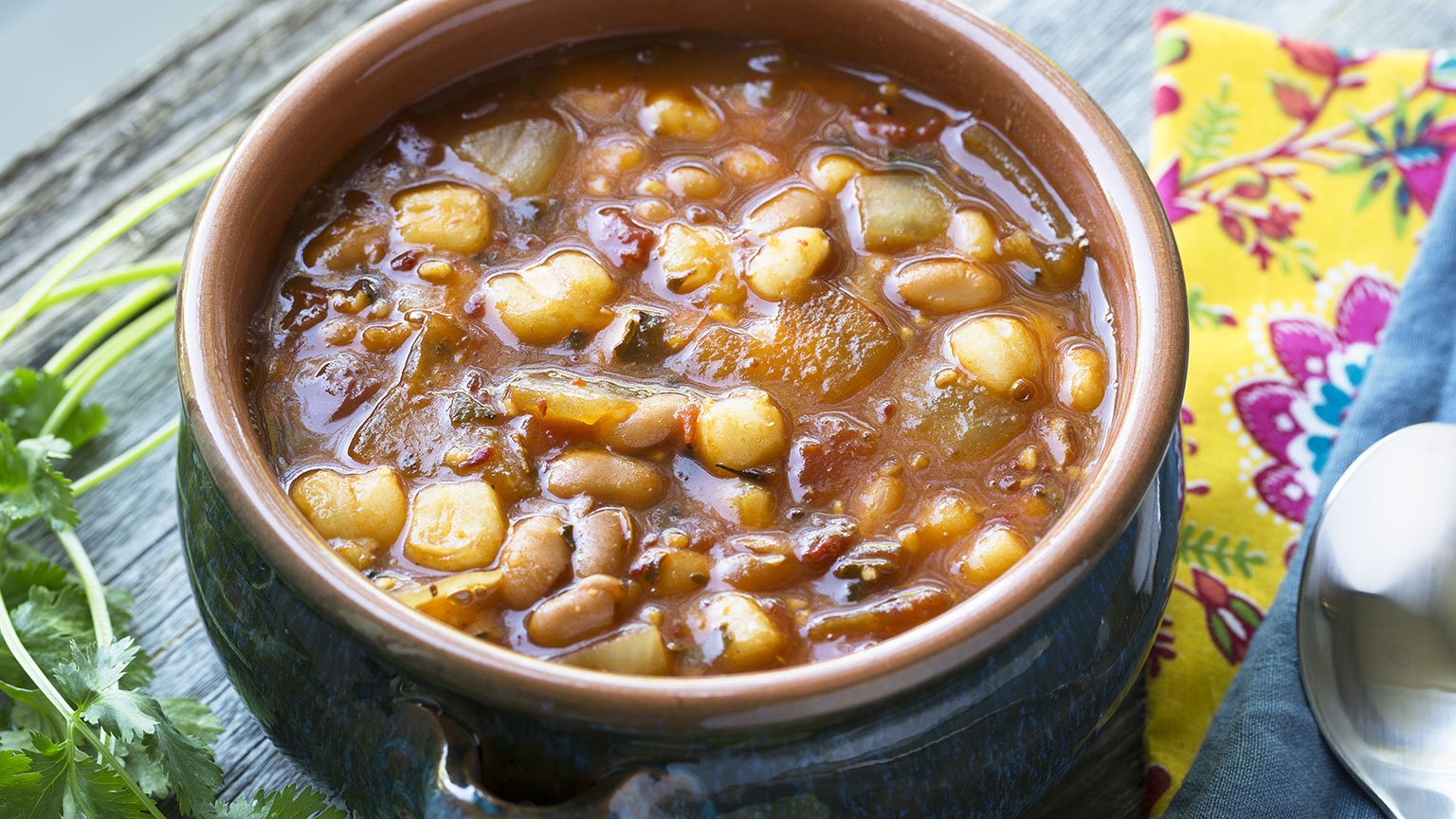 "Where the Piñon Mesa rolls
And the campfire cures your woes
Watchin' the sly roadrunner flee
On the tail of an autumn breeze…
That's where you'll find me
Where the big back country lies
There the cowboy's free to ride
Out under New Mexico skies."
-- "Under New Mexico Skies" (New Mexico's Official State Song)
There's a reason why America's 47th state, New Mexico, has been labeled "The Land of Enchantment." Any region whose official state aircraft is the hot air balloon, and whose historic pueblos, vibrantly colored landscapes, and scenic mountain vistas served as an inspiration for the art of Georgia O'Keeffe is a very enchanting place indeed.
"Enchanting" is also a good descriptor for New Mexico's cuisine, which is uniquely its own, and a true reflection of its fascinating history. If you love Mexican food with Native American and Spanish culinary traditions thrown in, along with a dash of Europe, the Mediterranean, and the Old West (also known as the "territorial period" – think cowboys, gunslingers, and saloons), this is the cuisine for you. Once you arrive in the area (and acclimate yourself to the high altitude), what will you find?
First, you can't dine anywhere without encountering New Mexico's famous red and green chili peppers (Mexico's official state vegetable, along with frijoles), usually the main components of a sauce. "Red, green, or Christmas?" will almost certainly be the first question you are asked when you arrive at your restaurant table, so you will need to decide whether you prefer them individually or would like to try both (if so, opt for "Christmas"). Both varieties begin their existence as green chiles, and will remain that way unless and until they are harvested and dried out, which turns them red. You will know it's fall in New Mexico when its ubiquitous adobe homes are festooned with dried red chiles hanging outside (these are known as "ristras"). How hot are New Mexico chili peppers? It varies – the green tend to be pungent, and the red are more mellow, but this is not always the case. As with all hot and spicy foods, proceed with caution, but be aware that in moderation, they can be beneficial to your health.
One other element that is unique to the region is piñon nuts. You can't claim to have eaten in New Mexico without trying this local incarnation of the pine nut (sorry, tree nut allergy sufferers!). They have a distinctive buttery, sweet taste, and are a bit larger than pine nuts. You will find them in cakes, cookies, pancakes, candy brittle, sweet breads, and most of all, coffee – New Mexico Piñon Coffee's traditional and flavored varieties are sold everywhere in the area, if you want to indulge in something created and roasted locally. If you're someone who likes hazelnut coffee, you will probably love this.
You will, of course, find traditional Mexican and Mexican American favorites – burritos, tacos, tostadas, enchiladas, refried beans, seasoned rice, etc. – but depending on whether New Mexican chile sauce is added to their fillings and toppings, they are apt to taste a bit different. This is also true of New Mexican guacamole and salsa. Another difference you might encounter: rather than flour or corn tortillas, you might instead find that your dish comes with Indian fry bread. This comes from the Navajos, and is (as the name might imply) a deep-fried, thick flatbread. This is also sometimes served as a snack, topped with honey or cinnamon.
Cinnamon is also an important ingredient in New Mexico's official state cookie, the Biscochito. This cinnamon- and anise-flavored shortbread, made with lard and often cut into shapes, has been around since the 16th century, and comes from Spain. Biscochitos are especially popular at the Christmas holidays, as well as other special occasions. Here's the recipe, from none other than New Mexico's Secretary of State.
Another Christmas mainstay in New Mexico is posole – a hearty stew composed of blue or white hominy and either chicken or pork, plus red or green chiles (naturally), garlic, onion, and oregano.
And while Tex-Mex cuisine tends to differ from New Mexican, one Texas creation has become quite popular with the locals: Frito Pie – or, hot chili ladled into a bag of Fritos.
Finally, you certainly won't go thirsty in New Mexico – the state bills itself as America's oldest wine region (dating back to the first grape plantings in 1629), and the warm, dry climate has attracted plenty of vineyards and wineries. Microbreweries came along much later (the first was opened in 1988), but that industry has burgeoned, too – the state currently boasts more than 60. Local brewers often partner with cattle ranchers to recycle their spent barley as livestock feed. Several distilleries have cropped up as well in recent years, and their wares are increasingly finding their way onto local restaurant menus and into "Only in New Mexico" cocktails.
The state's official slogan is "Everybody is somebody in New Mexico." And as we've seen, the local "somebodies" eat well. You will, too.