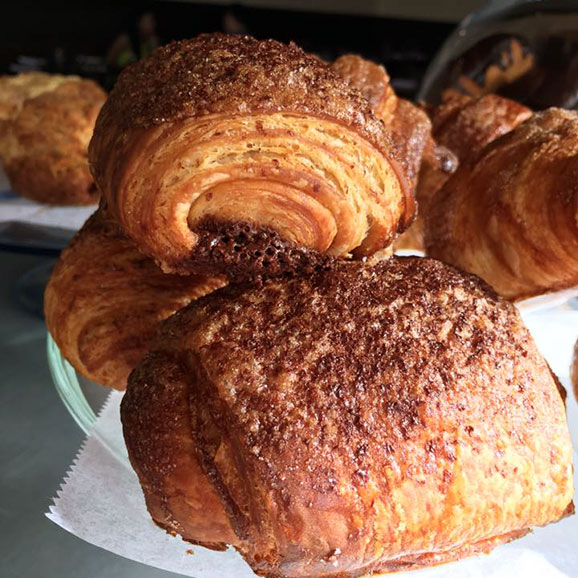 Chocolate croissants at Café Marie-Jeanne
Greetings! We are nearing the end of the season, and it's packed with some gems! This week we take you to Café Marie-Jeanne in the rapidly developing area of California and Augusta in Humboldt Park; celebrity-swamped Chicago Cut in River North; and Katy's Dumpling House in Oak Park. Café Marie-Jeanne Proprietor/Chef Mike Simmons and Proprietor/Wine Director Jamie McLennan chatted with me about their new venture. Here's what they had to say:
Q. Mike, you are an alum of both Lula Cafe and Rootstock. What have you brought from your experiences to your own place and what are some of the things you feature at Café Marie-Jeanne that best showcase your culinary point of view?
Mike Simmons: My experiences at both places were great and very different. At Lula I had Chef Hammel as a mentor and collaborator. He taught me how to be creative and accessible at the same time…how to be playful with food and ingredients but still make a deeply delicious and satisfying eating experience. I also learned how important customer service is, and to notice the number of doors opened by a "yes" and how many are closed by a "no."
At Rootstock I was able to develop a more personalized style and find my own voice in food. I also learned a lot from Jamie (McLennan) and Val (Szafranski) and the gang about how to pair wine with food.
Q. The menu is surprisingly extensive at Café Marie-Jeanne. What's the best way to approach the menu? What are some of the items you think are must-try and why?
Mike Simmons: I try to have something at all times of the day that appeals to everyone. The adventurous eater should find as many delights as a picky eater. And we try to accommodate any budget. My recommendations are Smoked Chicken (I like to get a half so I can eat all of the parts), Smoked and Pickled Fishes, any of the three to six different varieties of fish eggs, either fresh or cured. Sauteed calf brains are so delicious and surprisingly popular, our pastries are especially good…we love the pistachio morning bun. And we make a breakfast sandwich that you can build from a list of over two dozen a la carte items. People also love to get a bunch of a la carte items all on one platter to share with a friend or two. And all of our breads and pastries are baked in-house!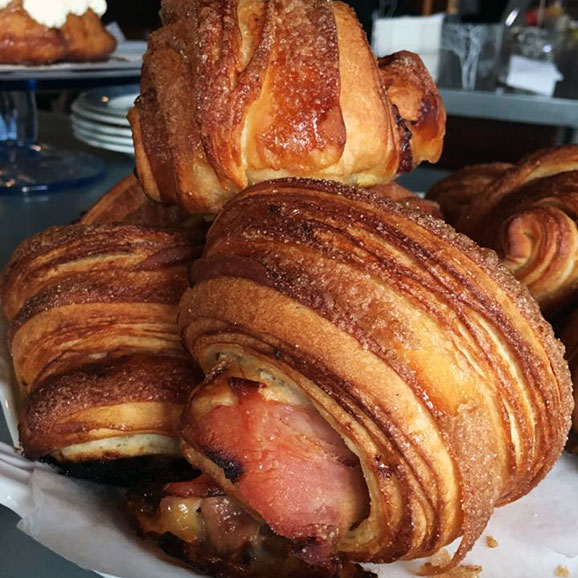 Turkey cranberry raclette croissants at Café Marie-Jeanne
Q. Café Marie-Jeanne features an edited wine list with some interesting offerings. Can you talk about the list, what it takes to make the cut on your list, and what your process is?
Jamie McLennan: Old-World in style though not always in origin, we focus on biodynamic and natural growers who use little to no intervention in the cellar, producing wines that best reflect their local terroir. Most importantly, they're always wines that we love to drink and, in our opinion, are best suited for the type of fare served at Café Marie-Jeanne.
Q. I love a place that serves alcohol first thing in the morning. Can you talk about the curatives you are serving and tell us about your popular namesake cocktail?
Jamie McLennan: We rotate the cocktails seasonally. With each recipe we focus on highlighting the inherent complexities of a base spirit without the addition of too many ingredients. They're also often a bit lower in alcohol to enhance the dining experience and never take away from it. Our Cocktail Marie-Jeanne – with Americano, Soda, and Citrus – is a refreshing and mildly bitter low ABV cocktail that induces hunger while also aiding digestion.
Stay tuned for some more inside dish right here on my blog!
Cheers,
Catherine
For an additional serving of inside dish, follow Catherine on Instagram @catdeorio and Twitter @CatCalls.