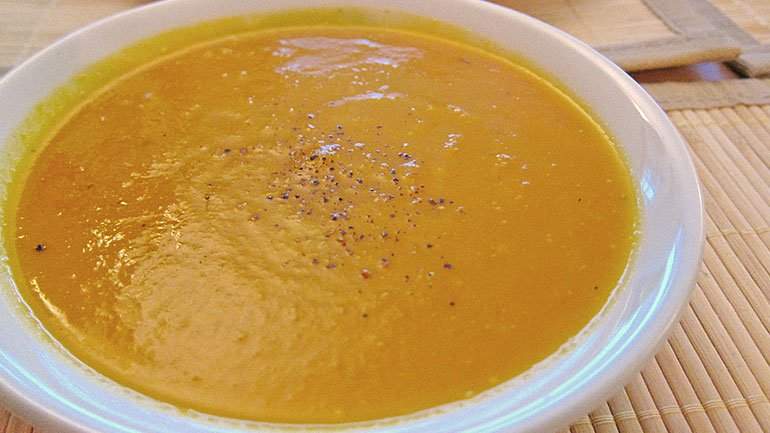 Zuppa di Zucca con Funghi

Serves 4 - 6

This is a simple yet elegant dish that celebrates the end of the year.

Ingredients:
6 oz. Mixed Wild Mushrooms
2 tbsp Butter or Olive Oil
3 cups Cubed Hard Squash such as Pumpkin,Butternut or Acorn
1 Carrot
1 Rib Celery
1 Medium Onion
2 tbsp Extra Virgin Olive Oil
6 cups Chicken or mushroom stock
1 pinch Chili flakes or Cayenne Pepper
Salt and Fresh Pepper to taste
3-4 oz. Extra Virgin Olive Oil
1-2 oz. Parmigiano-Reggiano, grated
Chopped herbs ? parsley or sage to taste

Finishing Procedure:

1) Gather all ingredients and utensils.

2) Use a pot big enough to hold all of the ingredients with room to spare.

3) Wash the carrot & celery, peel the onion & squash; chop all to roughly the same size.

4) In the pot, saute? the mushrooms in olive oil over medium heat working with a small amount each time seasoning with salt & pepper.

5) Set mushrooms aside until soup is ready.

6) Add carrot, celery, onion & squash to pot.

7) Add the stock, chili flake, salt & pepper to taste.

8) Simmer until tender; add remaining olive oil.

9) Carefully puree the mixture in food processor or blender working with small batches at a time.

10) Place mushrooms in warm bowls & fill with soup. Garnish with grated cheese & herbs & serve immediately.