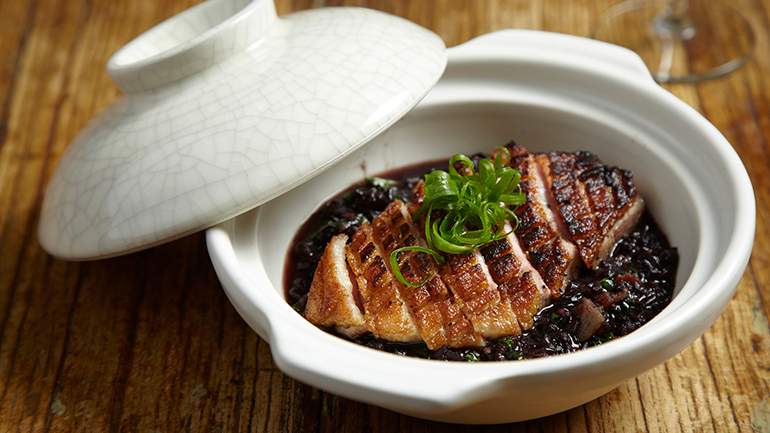 Chef: Jess DeGuzman
Ingredient List:
2 tablespoon of minced ginger
2 tablespoon of minced garlic
½ yellow onion, diced
1 tablespoon of sesame oil
½ cup of red chili flakes
1 ½ cups of black rice
½ cup of sweet rice
Salt and pepper
5 cups of duck stock (or chicken stock)
2 duck breast
5 Spice
Salt and pepper
Hoisin
Scallions
Directions:
For the congee: in a stockpot, fry ginger, garlic and onions in the sesame oil until the garlic turns golden-brown.
Add peppers and both types of rice. Toast the rice for a couple of minutes and add the duck stock and bring to a simmer. Cook the rice until it begins to slightly break down (about 30 minutes). Keep mixture at a thicker consistency. Season it with salt and pepper and hold on low heat.
To prepare the duck, preheat oven to 350 degrees Fahrenheit.
Cut the skin side creating hash marks; be careful to only cut the skin.
Season both sides of the duck with 5 spice, salt and pepper.
In a sauté pan, fry skin side first for 5 minutes. Turn over sear for 1 minute. Turn the skin side down place in oven for 6 minutes until medium rare.
Let rest for 5 minutes and then slice very thin.
For the sauce, in a small sauce pan, combine hoisin and water. Heat on low and add enough water to create a thinner consistency.
To plate use a hot pot or bowl and place congee on the bottom and top with the sliced duck.
Drizzle with hoisin sauce and top with scallions