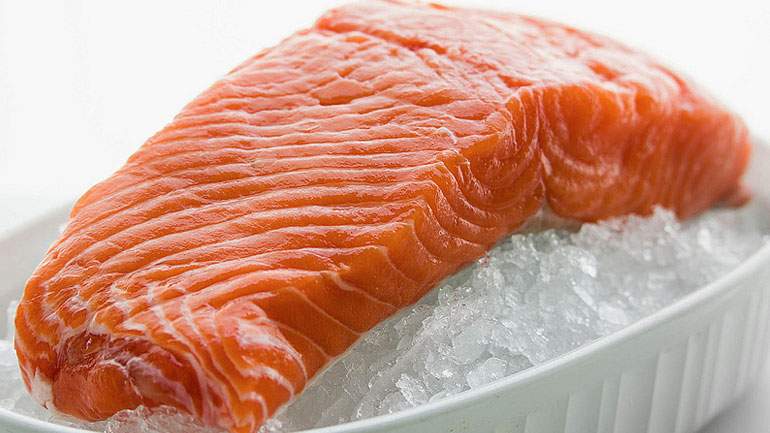 Ingredients:
4 pc 6 oz Red King Salmon Filet
8 medium Yukon potatoes
1 q vegetable stock
15 pc medium size fresh shallots
1 bottle aged balsamic vinegar
8 slices smoked bacon
1 bottle Italian Extra Virgin Olive Oil
Fine sea salt
Fine grounded white pepper
2 oz fresh basil

Directions:
Prepare the salmon filet, then peel the potatoes and cook cut in pieces 4 of them in the vegetable stock with the addiction of 3 pieces of shallots.

Cook completely the potatoes then ground in the blender with the stock remained and extra virgin olive oil.

Filter the puree and regulate with salt (if needed) and pepper.

Blanch in hot water the shallots for 5 min. caramelize a table spoon of granulated sugar in a sauté pan then add the shallots drained from the water and the balsamic vinegar, regulate with salt and cook slowly for other 10 min.

Toasted in the oven the bacon in a half pan until becomes crispy and rightly brown.

Slice the remaining potatoes paper thin then wrap each salmon filet, cook in antis tick sauté pan with a touch of extra virgin olive oil until they are medium-med well.

Place in the center of the plate a spoon of potato puree, slice in 2 pieces the salmon filet and place it on top of the puree, distribute 3 pieces of caramelized shallots all around, dress with the balsamic reduced and top with 2 slices of bacon and a fresh basil leaf.