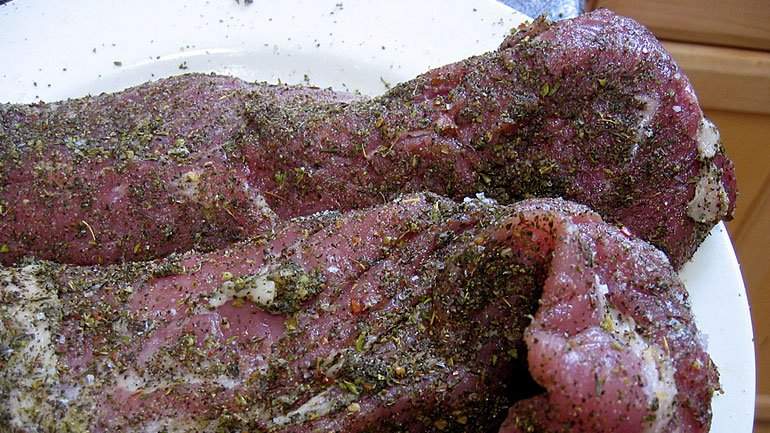 Ingredients for Pork Tenderloin:
3 T butter
1 T duck fat
1 c onions, small dice
1 c celery, small dice
1 c green pepper, small dice
1 T garlic, minced
4 lb Pork Tenderloin, butterflied

Ingredients for seasoning:
2t Black pepper
1 t salt
1 t white pepper
1 t cayenne pepper
1 t paprika
1 t dry thyme leaves
1 t dry mustard

Directions:
Combine seasoning mix thoroughly. Place all ingredients except pork in a skillet. Sauté about 4 minutes over high heat, stirring occasionally. Cool. Stuff pork with mixture when cool. Tie with butcher's twine. Rub out-side with seasoning mix. Reserve until service.

Ingredients for Andouille Sausage Gravy:
8 oz andouille sausage, diced small
1 T vegetable oil
3/4c onion
1 c green pepper
1 t flour
1 bay leaf
1 t dry mustard
1/8 t salt
1/8 t white pepper
1/8 t cayenne pepper
2 c veal or beef stock

Directions:
In a sauce pan cook andouille and oil over high heat about two minutes. Stirring frequently. Reduce to medium and cook three minutes. Add trinity and cook 10 minutes. Add flour and seasonings and mix thoroughly. Add stock and stir well. Simmer until correct viscosity; remove bay leaf and store in 1/6 pan.

Ingredients for Bread Pudding:
Custard
1pt milk
1pt cream
3 yolks, beaten
6 eggs, beaten
3 oz sugar
1 t vanilla
1 lb bread
3 oz butter, melted
2 oz apricots
2 oz golden raisins

Directions:
Make royale and pour over bread and fruit. Let royals soak overnight or 1 hour. Pour into buttered aluminum tins, ramekin size. Bake in water bath uncovered until toothpick comes out clean — 375° F. Pop out of ramekin and reserve until service.