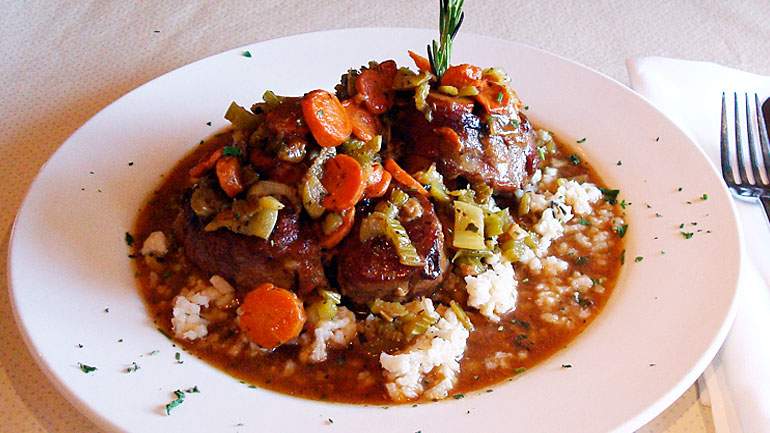 Ingredients:
3 ½ to 4 pounds veal shin or knuckle
¼ cup all-purpose flour
2 tablespoons olive oil
2 ounces salt pork, diced
¼ cup butter, melted
½ pound onions, peeled and diced
1 large garlic clove, mashed
2 bay leaves, crumbled
1 teaspoon crumbled dried rosemary
1 teaspoon salt
1 teaspoon freshly ground pepper
3/4 cup dry white wine
2 tablespoons grated or minced carrot
½ celery stalk with leaves, minced
8 to 10 fresh parsley sprigs, leaves only, chopped fine
2 large ripe tomatoes or 1 cup canned peeled plum tomatoes, chopped
1 heaping tablespoon tomato paste
½ cup warm water

Directions:
Have the butcher saw the shins into 3-inch pieces. Sprinkle them lightly with flour and shake off any excess. Heat the olive oil, salt pork and butter in a heavy-bottomed skillet. Add the onions and brown. Add the pieces of veal shin and the garlic and brown on all sides for about 8 minutes. Add bay leaves, rosemary, salt and pepper. Stir and brown for about 10 minutes longer. Add the wine, cover, and simmer for 5 minutes. Discard bits of garlic. Add carrot, celery, parsley and tomatoes. Stir tomato paste with the water until well blended and then add that to the mixture. Stir and cook for about 40 minutes, or until done to your taste.