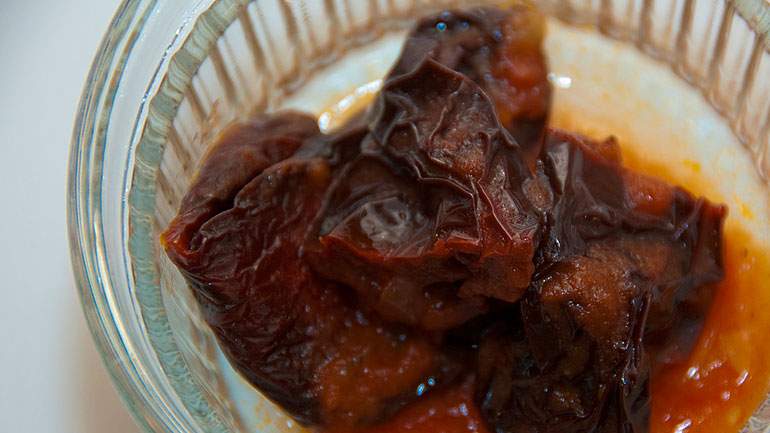 Crepe Batter:
1 c. Flour
1 T. Sugar
¼ t. salt
1 c. milk
3 oz. tomato juice
3 eggs
3 T. butter melted
1 T. pureed chipotle

1. Mix all dry ingredients in bowl.

2. Whisk in liquid ingredients, eggs and butter until smooth

3. Add chipotle and mix.

4. Warm a nonstick omelet pan over low heat.

5. Melt a small amount of butter, enough to coat the pan.

6. Add 1 ½ - 2 oz. batter to the pan and spread it out evenly by angling the pan in different directions.

7. When the edges of the crepe begin to look cooked, flip the crepe over.

8. Cook for 1 -1 ½ minutes more and it's done!

Crepe Topping:
1 ½ lbs. beef tenderloin, slice in small strips, about 2 in. long and ½ in. wide
1 lb. sliced mushrooms
1 T. roasted garlic
Salt and pepper
1 bunch watercress
1 T olive oil
5 oz. goat cheese
1 oz. heavy whipping cream

1. In a sauce pan slowly melt the goat cheese with the heavy cream until it is smooth and sauce like. Set aside

2. In a sauté pan add your oil and heat.

3. Add your mushrooms and cook until they begin to sweat and get soft.

4. Add the beef and cook between rare and medium rare (or more if you'd like)

5. Season with the garlic and salt and pepper.

Putting it all together:
Begin with a warm open faced crepe, top it with some beef and mushroom mixture, then a few sprigs of watercress, and finally drizzle with some goat cheese sauce.

Makes about 6 crepes.