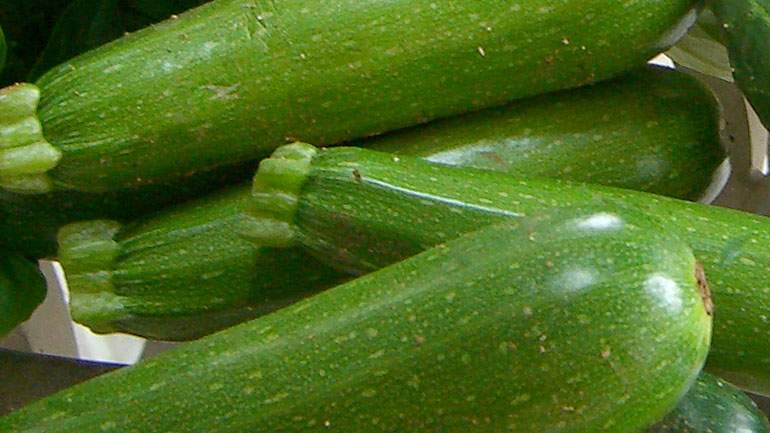 Ingredients:
2 Tbsp. olive or cooking oil
2 large yellow onions, peeled, halved and thinly sliced
Salt and white pepper
1 10.5 oz. log fresh goat cheese
1 bunch fresh basil; tops saved, leaves thinly cut
1 sheet puff pastry sheets, available in grocery freezer section
2 medium (1.5" diameter) green zucchini
2 medium (1.5" diameter) golden zucchini
4 medium plum tomatoes, heirloom if possible
1 fresh egg
Extra virgin olive oil

? c cured black olives, pitted
6 anchovy filets, rinsed, dried
1 tsp. Dijon mustard
¼ c capers, drained and dried
½ c canola oil
¼ c extra virgin olive oil
1 Tbsp cognac

Preparation:
-Preheat oven to 425° F. Thaw puff pastry.

-Over medium flame, heat 1 tablespoon olive oil in medium saucepot and add sliced onions. Salt and pepper, reduce flame to low and cook slowly for 20-30 minutes until mixture turns a rich golden brown color. Reserve*.

-Place goat cheese in mixer with paddle attachment and soften on low speed. Add sliced basil, pinch of salt and pepper and a bit of olive oil. Turn to medium to homogenize. Form a 1.5" diameter log and Reserve*.

-Place black olive paste ingredients in blender and puree. Reserve*.

-Lay thawed pastry out on counter and roll evenly to thickness of 1/8". Prick throughout with a fork, cut into 4"-5" circles and place, holes down, on parchment paper-lined baking sheet. Reserve*.

-Slice gold and green zucchini in even ¼"rounds.

-Heat large non-stick skillet over high flame and add think coating of olive oil. Carefully add enough sliced zucchini to just cover bottom of pan, salt and pepper and shake the pan quickly to "wilt" the vegetables without cooking them through. Turn them out to napkin-lined plate to cool, and if necessary, repeat with balance of squash.

-Slice both tomatoes and goat cheese into even 1/8" rounds.

Now assemble the tarts:
-Place pastry circles on (wet) piece of parchment paper-lined cookie sheet.

-Beat egg and add tablespoon of water to it. Brush outer third of pastry circles with egg mixture.

-Leaving 1/8" border around circumference of pastry, carefully spoon thin layer of caramelized onion in center of each circle.

-Carefully alternate three full sets of yellow round-green round-goat cheese-tomato on top of onion mix. Drizzle with olive oil, salt and pepper and place in oven.

-Cook for 8-10 minutes, or until pastry puffs and browns around perimeter of tarts.

-Remove and serve on plates surrounded by thin band of black olive paste. Garnish with reserved basil top and, perhaps, small herb salad.

*Can be made 1-2 days beforehand.

Serves 4 people.