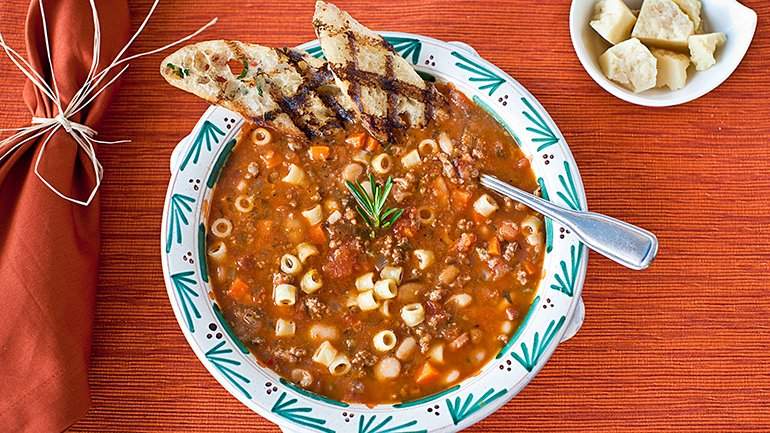 Chef: Nancy Brussat
Serving for 8 – 10 People
Ingredient List:
1 tablespoon of olive oil
3 ounces of finely chopped pancetta
1 cup finely chopped onion
2 teaspoons of finely diced garlic
¾ cup of finely chopped celery
¾ cup finely of chopped carrots
¼ cup finely of chopped parsley
1 ½ pounds of ground beef
1 teaspoon of crumbled dried rosemary
1 ½ teaspoons of dried basil
¼ teaspoon of dried chili pepper flakes
128 ounces of caned diced tomatoes
2 cups (16 ounces) of tomato sauce *
5 cups of veal or beef stock
3 (15 ounces) cans of cannellini beans, drained & rinsed
1 teaspoon of salt
Freshly ground pepper
8 ounces of tubetti pasta cooked al dente
Parmesan cheese for grating
Extra virgin olive oil for drizzling
*We use Convito's Tomato Basil Sauce sold in our freezer. You can make your own tomato sauce or buy one of the jarred versions.
Directions:
Heat 1 tablespoon of the oil in a large stockpot over medium high heat. Add the pancetta and sauté until browned approximately 5 minutes. Add the onions, garlic, celery, carrots and parsley and cook, stirring occasionally, for 5 minutes or until vegetables are soft. Add the ground beef, rosemary, basil & chili pepper flakes. Crumble the meat into tiny pieces with the edge of a wooden spoon. Cook, continuing to crumble just until it loses its raw red color but has not browned about 3 minutes.
Add tomatoes, tomato sauce and stock and bring to a simmer stirring until all ingredients are incorporated. Puree 1 can of the beans. Add to the soup. Mix well. Add the other two cans of beans. Turn the heat to low and simmer until the flavors meld approximately 15-20 minutes.
Add the pasta and mix well. Ladle the soup into individual bowls. Drizzle with olive oil and serve immediately with grated Parmesan cheese.
Pasta note: You can add the pasta to the soup after the beans are added cooking al dente according to the cooking time on the pasta package. I prefer to cook the pasta separately and add it just before serving since I usually keep the soup in the refrigerator for leftovers and feel the pasta does not remain al dente with reheating. I toss the cooked pasta with a little olive oil to prevent sticking. I have also frozen the leftovers.