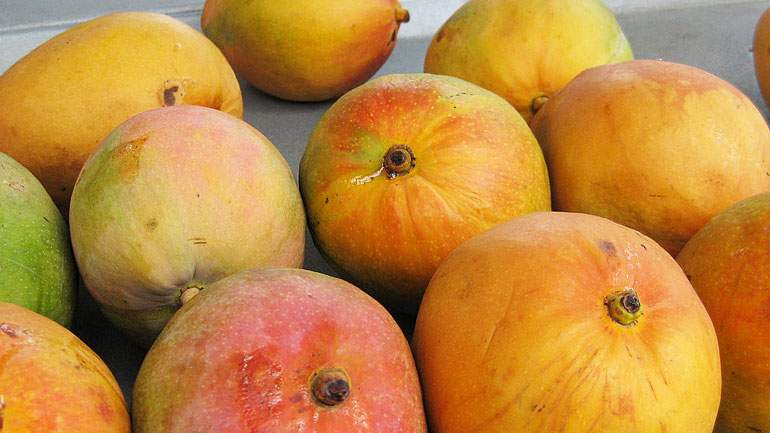 Ingredients:
2 12 oz. cans evaporated milk
2 14 oz. cans condensed milk
8 oz. cream cheese
4 oz. Marscarpone cheese (find at Dominick's or other fine food stores)
6 Eggs
2 tsp. Vanilla extract
28 oz. Fresh Pureed Mango (or canned Mango puree without syrup)
2 cups of sugar (for Caramel base)

Directions:
Preheat oven to 350° F.

For Caramel Base
Using an iron skillet, on high heat pour 2 cups of sugar, stir with wooden spoon until sugar melts down into liquid.

For Mango Flan
Mix all ingredients on low to medium speed until smooth. Pour caramel base then Flan mixture into one inch baking pan.

Use a sheet pan to create a bano de Maria (Maria's water bath), inserting the baking pan inside a larger sheet pan with water halfway to the top. Insert into oven at 350° F and cook for 35 minutes. Check with toothpick. If toothpick is mostly clean, remove flan from oven and refrigerate for 90 minutes.

Cut Mango Flan from baking pan. Sprinkle with berries, caramel or powdered sugar for garnish.