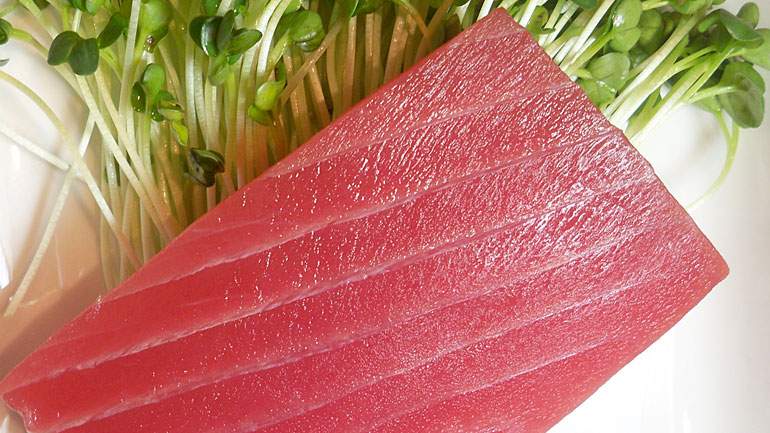 Ingredients:
4 - 6 oz center cut ahi tuna steaks (1 inch thick)
16 pc shitake mushrooms - sliced, de-stemmed
3 tablespoons soy sauce diluted with ½ cup water
½ cup sesame seeds
½ cup peanut oil
8 pc spring roll wrappers
12 pc asparagus
2 pc bell peppers - cut into strips
1 pc carrot - cut into strips

Directions:
For each spring roll, take 3 pc asparagus, 4 strips carrot and 6 strips peppers, place all vegetables on wrappers and roll into a cylinder roll. Roll second wrapper around first wrapper for extra layer. Coat one side of tuna with sesame seeds. Heat pan to medium, add peanut oil. Place spring rolls into pan and turn as they brown. When spring rolls are golden place in oven preset on 350 degrees for five minutes. In the same pan, add tuna sesame seed side down - sear for 2 minutes, turn over and add shitake mushrooms, remaining sesame seeds and diluted soy. Cook for additional 2 minutes for medium rare, allowing sauce to reduce. Plate shiitake, soy and place tuna on top, cut spring rolls into three pieces and serve with pickled ginger.