The Soda Fountain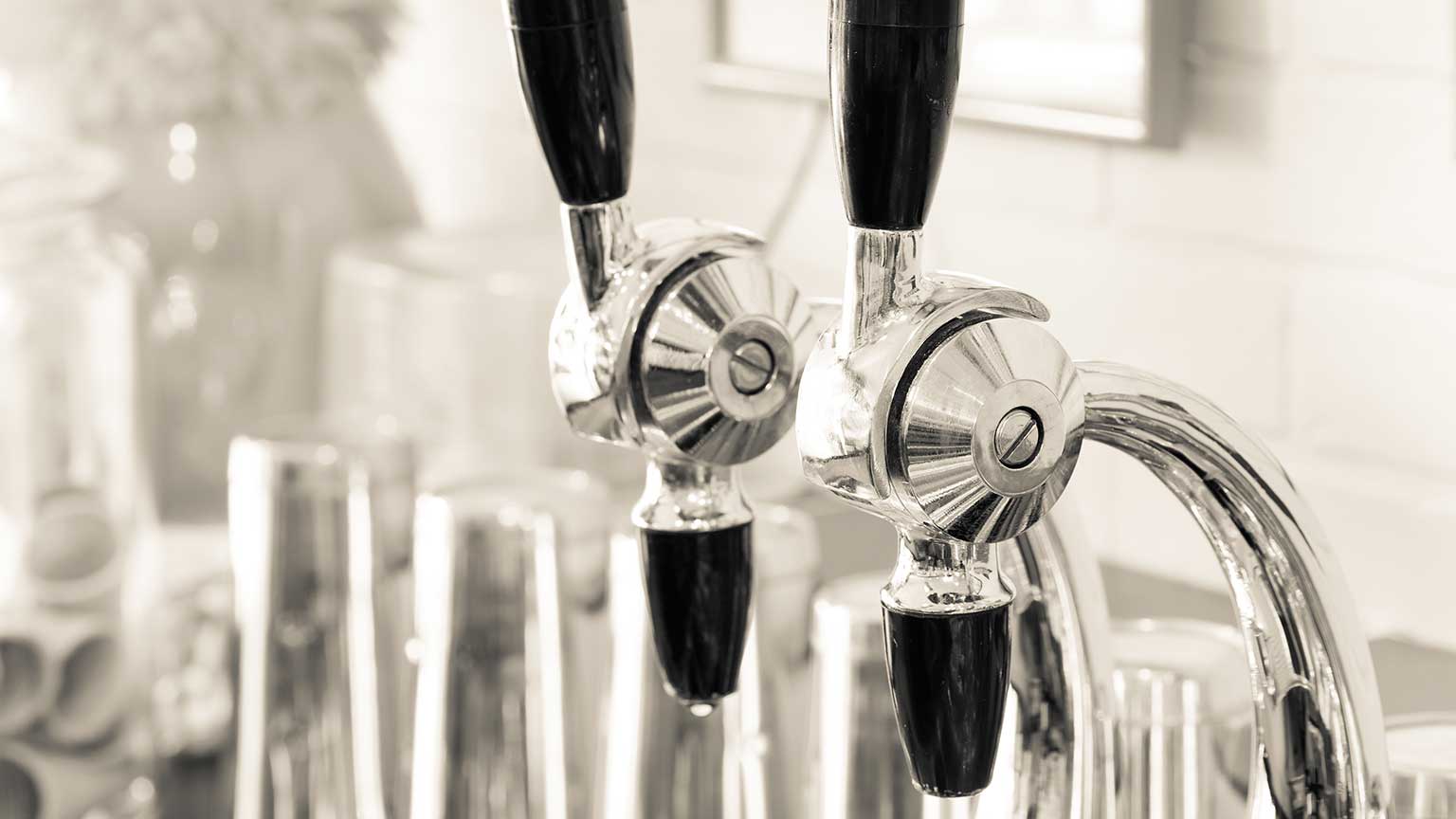 Have you ever seen the classic films It's a Wonderful Life, The Best Years of Our Lives, Good News, and the Andy Hardy movies with Mickey Rooney? If you have, you got a glimpse of the family-friendly social center of every American small town: the old-fashioned soda fountain. There was nothing quite like it. You took a seat at the counter of one of these marble-and-brass emporiums, plunked down a nickel or a dime, and watched the soda jerk (the equivalent of a bartender, only the epitome of cool, with his own special lingo) concoct an ice cream soda, an egg cream, a fizzy phosphate drink, a malt, or a whimsically named milkshake.
The soda fountain (and most soft drinks) would never have existed without Joseph Priestly, a British chemist who is credited with creating carbonated water in the late 18th century. For a time, bicarbonate of soda was added to the mixture and the product was marketed to people with stomach ailments, a formulation still known as "soda water" today. Its supposed medicinal qualities (and that of other menu items that contained cocaine, lithium, and caffeine) may be why so many soda fountains were initially located in drugstores.
It wasn't long before flavored syrups were added to the carbonated water, and then sweetened cream. This made for a popular drink – so popular that when the cream ran out, proprietors experimented with vanilla ice cream. Naturally, this was a hit…and the ice cream soda was born. Fun fact: Chicago was the center of the soda fountain industry, and Charles Walgreen was one of the first to add food to his menu, in about 1910.
At one time, soda water was considered to be an intoxicant, unsuitable for women and children. Which might explain why there were laws in place that prohibited its consumption on Sundays. To get around that, soda fountain proprietors switched to serving ice cream with syrup only, omitting the soda water. That was how we got the "sundae."
The soda jerk (named for the "jerking" motion made by pulling down the arm on the soda draft machine) crafted many other concoctions by hand. These included:
Phosphates – In existence since at least the 1870s, phosphates were standard at soda fountains, and were made differently from today's soft drinks, as a key ingredient was acid phosphate. They had a tangier, tarter taste than today's sugary sodas, and generally included fruit juice or fruit syrup. The most popular flavor was cherry, and the "wild cherry" formulation included ground-up cherry bark (also good for coughs and indigestion). After a 40-year absence, acid phosphate recently came back on the market; it's expensive, but a teaspoon of it goes a very long way.
Milkshakes – The base ingredients in most milkshakes are (obviously) milk and softened vanilla ice cream. After that, depending on what else you add, there are many variations. Just a few of the more unusual ones and their added ingredients:
Chunky Monkey: instant coffee, chocolate chips, chocolate syrup, banana, vanilla extract
Fuzzy Navel: peaches, orange juice, strawberries (as a garnish)
Lime Sherbet Freeze: lime sherbet, ice cubes
Black Cow: root beer, chocolate syrup
Brown Cow: Coca-Cola, chocolate syrup
White Cow: vanilla extract
Purple Cow: grape juice concentrate, banana, ice cubes
Pumpkin Pie: canned pumpkin, cinnamon, vanilla, sugar
Tropical Breeze: unsweetened coconut milk, papaya, pineapple, banana, strawberries
Egg creams – Surprisingly, these beverages included neither eggs nor cream. The quintessential New York treat (or the Bronx, to be more specific), these are made from milk, flavored syrup (usually vanilla or chocolate) and seltzer, mixed up until frothy and served in a frosted glass.
Floats – Essentially, this is at least one scoop of vanilla ice cream topped with the carbonated soft drink of your choice. (Root beer, as you might have guessed, is the most popular.)
Malts – Just add malted milk powder to your milkshake, known in soda jerk lingo as "burn[ing] one.""Burn one all the way" means that your malt includes chocolate ice cream. If you want a raw egg added, the soda jerk will "make it cackle." (So, if you wanted a chocolate ice cream malt with an egg, you would tell the soda jerk to "Burn one all the way and make it cackle.")
The old fashioned soda fountains started to disappear in the early 1970s, as people migrated to the suburbs and fast food places sold many of the same items. But there are a few still in existence, including Homer's in Wilmette (they claim that Al Capone was a regular customer) and the venerable Margie's Candies (which once served the Rolling Stones). And SpinningJ in Humboldt Park, having salvaged an old soda fountain set-up from 1928, is attempting to reinvent it, with some intriguing new flavors such as passion fruit, ginseng, and Thai tea.
Of course, if you have a blender, a working freezer, and the basics at home, you are limited only by your imagination. Not quite Andy Hardy…but it will do.