View all Recipes
Winter garlic soup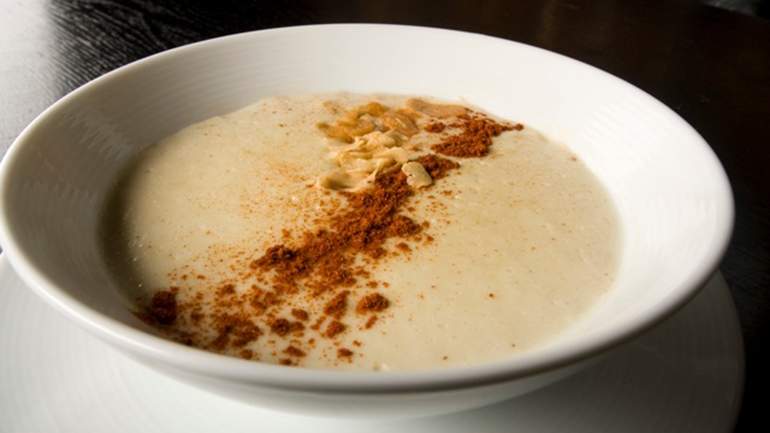 Chef: Matt Troost
Serving for 8-10 People
Ingredient List:
4 tablespoons of butter
2 garlic heads, cleaned and chopped
2 leek whites, washed and chopped
2 Idaho potatoes, peeled and chopped
2 heads garlic, roasted
Sachet of:
1 head of garlic halved,
1 teaspoon of black peppercorns
1 sprig thyme
2 bay leaves
2 cups of heavy cream
6 cups of milk
Olive oil
2 cloves of garlic
Salt and pepper
Smoked paprika
Garlic chips
Directions:
Season your food at every step!
For the roasted garlic: Toss 2 heads of garlic with olive oil, salt and pepper, wrap in aluminum foil and roast off at 350 degrees Fahrenheit until golden and soft. When cool, remove the garlic from the skins. Set aside.
For the soup: On med/med-low heat sauté (without browning) garlic and leeks in butter. When soft add potatoes and heavy cream, milk and sachet. Simmer until potatoes are cooked. Add roasted garlic last and puree in a blender. Strain through chinoise or fine sieve and adjust seasoning/consistency.
For the garlic chips: take two cloves garlic and slice paper thin on a mandolin or very carefully with a knife. Rinse thoroughly under cold water. In a deep pan heat about 1inch of olive oil until it's at 300 degrees Fahrenheit. Fry the garlic chips until lightly golden. Cool on a paper towel.
To serve: fill a bowl with hot soup, sprinkle some smoked paprika over the top and add a few garlic chips.