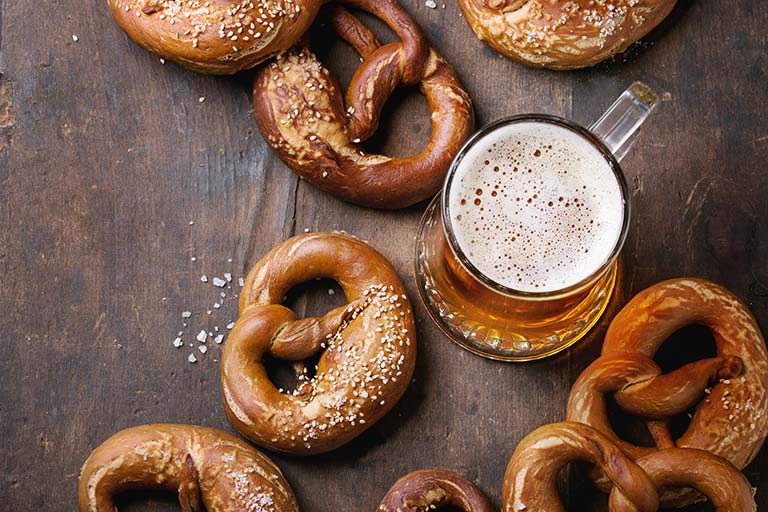 "Ich wäre lieber betrunken und lustig als nüchtern und dumm." (I'd rather be drunk and funny than sober and stupid.)
—Bavarian proverb, often heard at Oktoberfest
The official end of summer may be sad for some, but for many, it heralds the arrival of a welcome tradition more than 200 years in the making: Oktoberfest, an annual celebration considered the world's largest beer festival. In Munich, Germany, where it originated, Oktoberfest is already underway and runs through October 3. You will also find it going strong in many cities with large German communities, including, of course, Chicago.
What is Oktoberfest, how did it become so popular, and what's up with an event of that name being held in September? Halt deine Lederhosen fest (Hold on to your Lederhosen)…
On October 12, 1810, the townspeople of Munich were invited to a grand occasion: the royal wedding of Bavarian Crown Prince Ludwig to the young and beautiful Therese Charlotte Luise von Sachsen-Hildburghausen. (Fun fact: she almost married Napoleon Bonaparte instead.) Their elaborate wedding reception, an alfresco affair, lasted five days and centered on a horse race. The marriage was such a success (44 years and nine children) that the celebration became an annual and — like their family — ever-expanding event; eventually it included a parade, agricultural show, folk festival, agility contests and foot races, and mechanical rides, including, in 1908, Germany's first roller coaster. Eventually, local breweries got into the act, and the famous Munich beer halls became synonymous with Oktoberfest.
As the festival got longer and longer, it was moved up to September to take advantage of the warmer weather; its name, however, remained the same. (Maybe "Septemberfest" didn't have quite the same ring to it. In any event, "Oktoberfest" is a lot easier to remember than "Sachsen-Hildburghausen Fest.") Today, Oktoberfest is one of Munich's biggest tourist attractions, generating almost 500 million Euros annually. Only wars and epidemics have gotten in the way of this annual funfair; clearly, Germans have their priorities in order.
Now for the important part, as far as we're concerned: what you eat and, importantly, drink. Not surprisingly, there are very strict regulations governing official Oktoberfest beer: it's called Märzen, and it's considerably stronger and darker in color than everyday beer varieties. It must be brewed according to the Reinheitsgebot (standards in effect for 500 years); it can contain up to 6% alcohol; be lagered for, at a bare minimum, 30 days; be bottom-fermented; and be composed of a precisely correct balance of hops, malt, yeast, and barley. Märzen is traditionally served in a one-liter mug, and a licensed Oktoberfest event waiter or barmaid must be able to tote 10 mugs at a time. If you can't get your dirndl skirt to Germany and want a close-to-authentic Oktoberfest beer experience here in America, stick to brands such as St. Pauli Girl, Dinkelacker, Bitburger, Ayinger, Pinkus, Weihenstephan, and Warsteiner, among others. Prost! (Cheers!)
Oktoberfest cuisine falls pretty much into one category: things that go well with beer. Here are a few traditional ones:
As a snack or appetizer, go for one of those famous big, soft pretzels, slathered with mustard. There are numerous varieties — sweet, tangy, and even pungent (from Düsseldorf). There's also a popular bread spread, Obatzda, which is made from a soft cheese (usually Camembert, but cream cheese will do in a pinch) mixed with butter, a dash of beer, and spices such as paprika, salt, and pepper. Garlic, ground caraway seeds, onions, cloves, and other components can be added as well.
Another thing that pairs perfectly with mustard: Bavarian sausages (Würstl) — just be sure to sauté them with sauerkraut. Other popular meat options are roast chicken (Hendl); ham hocks (Schweinshaxe); roast pork (Schweinbraten); and grilled fish on a stick (Steckerlfisch), which is customarily made from bream, a local Bavarian fish, but trout or mackerel works equally well. These are often served with a popular side dish made from apples and red cabbage (Blaukohl).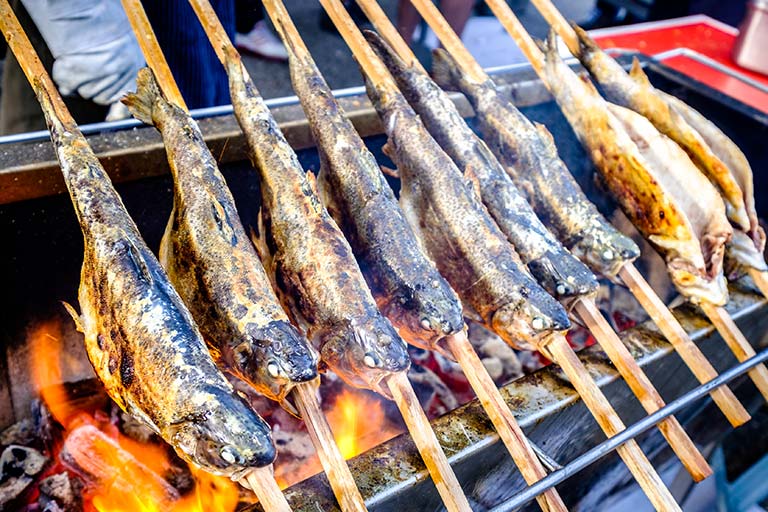 Steckerlfisch
With all of that meat (and beer!), you really need some starch, don't you? And German food has it in spades — options include potato pancakes (Reiberdatschi), served with apple sauce; dumplings (Knödel) that are very much like Italian gnocchi, although the potato variety are really Hungarian (shhhh!); and cheese noodles (Kasespätzle) — egg noodles cooked with cottage cheese or its tangier cousin, quark.
For dessert, in addition to the traditional decorated gingerbread cookies which can be ruinous to your dental work, you might try (of course!) apple strudel; Schwarzwälder Kirschtorte (Black Forest cake); Kaiserschmarrn, a sweet raisin pancake topped with sugar; or Dampfnudel, a honey dumpling that is steamed and paired with vanilla sauce.
If you can't make it to a local Oktoberfest celebration, Check, Please! has three suggestions for some great German cuisine: Chicago Brauhaus and Lutz Continental Café (both in Lincoln Square); further afield, Karl Ratzsch's in Milwaukee.
Mahlzeit! (Enjoy your meal!)