Holiday Beverages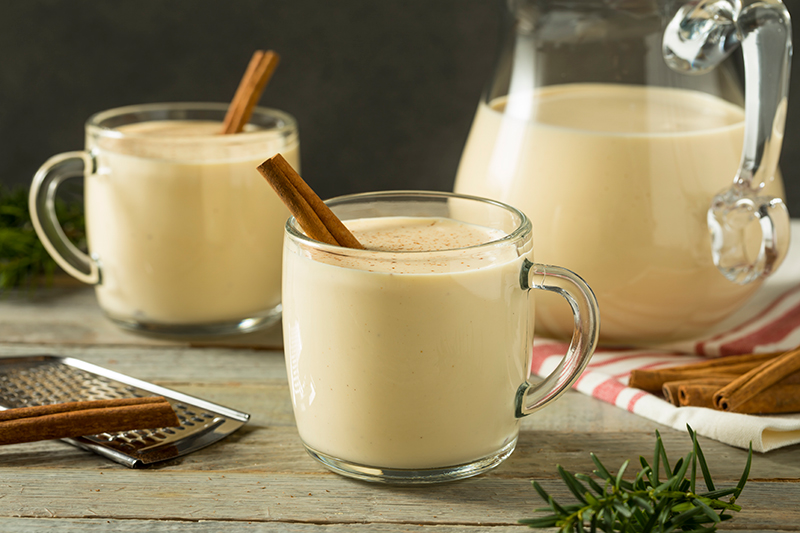 "Here we come a-wassailing
Among the leaves so green
Here we come a-wand'ring
So fair to be seen.
Love and joy come to you
And to you your wassail too
And God bless you and send you a Happy New Year
And God send you a Happy New Year."
– Traditional English Carol, 1850
As you have surely heard, it's Christmastime! And like millions of happy celebrants all over the globe, you are likely making the rounds of holiday parties and indulging freely in a wide variety of rich foods and lavishly decorated sweets (the bathroom scale can wait until January, right?).
And of course, as the snow piles up outside and the cold wind blows (even if you're fortunate enough to be in a place where they don't!), it's also the perfect time for delicious holiday beverages. Depending on your location, as you will see below, these will vary, and the good news is that most of them are adaptable for the whole family (just serve them to the kids first before adding the…um…adult ingredients). Here are some of the most popular Christmas drinks from around the world:
Eggnog (United States and Canada) – As Victorian-era aristocrats would doubtless agree, it's hard to imagine Christmas without this creamy, frothy concoction of eggs, sugar, and milk, dusted with a sprinkle of nutmeg. Once the children have had their fill, you can start ladling in whatever alcoholic beverage you favor…rum, bourbon, vodka, brandy… you name it. Eggnog may have originally developed from a medieval European drink called posset, which was made with hot milk.
Wassail (United Kingdom) – The term, from Old English, means "be well." The British tradition of "wassailing" (see the carol above) dates back to the 1400s; revelers belted out Christmas carols to their neighbors while sharing a bowl of wassail, a piping hot mulled cider spiked with ale.

Glühwein
Glühwein (Germany and Austria) – A favorite at European Christmas markets (including Chicago's!), this is a hot mulled wine that was originally introduced by the Romans. Spices can include anything from cardamom, cinnamon, bitter orange, and ginger, depending on the tastes of the mixologist. Another glühwein specific to Germany is feuerzangenbowle – at its very own festival in the town of Tübingen, it is prepared in a special way: a large bowl of red wine is simmered over a burner, and when hot, a rum-soaked Zuckerhut (sugar hat) is placed on a metal grate atop the bowl and set aflame, where it caramelizes and seeps into the brew, a bit like a big Dutch stroopwafel.
Glögg (Scandinavia) – Like Glühwein, this hot mulled wine is available in alcoholic and non-alcoholic incarnations; the latter is made with grape or blackcurrant juice. Cloves, orange, and cinnamon are traditionally added, plus a few almonds and raisins. In Norway and Sweden, two very popular holiday soft drinks are Julebrus and Julmust. The Coca-Cola Company, seeing their regional sales drop dramatically at this time, came up with their own versions of them to compete with the local breweries.
Cola de Mono (Chile) – This South American country has its own version of eggnog, though some argue it's more like a White Russian. The English translation is "monkey's tail," said to be named after Chile's president, Pedro Montt, whose nickname was El Mono Montt, or Monkey Montt after something he did at a dinner party (do we want to know?). It's made with aguardiente (brandy or rum will work as a substitute), vanilla bean, coffee, milk, cinnamon, cloves, and nutmeg.
Ponche Navideño (Mexico) – Most street vendors sell this Christmas punch, served hot and made with sugar and a variety of fresh and dried fruits, including tejocotes (an indigenous fruit used by the Aztecs, similar to the hawthorn berry). Tequila, brandy, or rum are popular additions. If you want a little caffeine jolt, there's also Café Mexicano – dark roast coffee with chocolate syrup, cinnamon, nutmeg, and heavy cream.
Poppy Seed Milk (Lithuania) – This beverage, about the consistency of almond milk, is made with (of course!) poppy seeds, water, and honey. It is one of the 12 dishes included in kūčios, the traditional Christmas Eve meal.
Bombardino (Italy) – This is Italy's version of eggnog, but served hot. It includes one part Advocaat and one part brandy (an alternative version, calimero, also includes a shot of espresso). It's especially popular with skiers, and its name reputedly comes from one of its first-ever tasters who, bowled over by the kick of the alcohol and the heat, declared, "It's like a bomb!"
Coquito (Puerto Rico) – This is, essentially, coconut eggnog, and is served cold. It's composed of coconut milk or cream of coconut, spiced rum, condensed milk, vanilla, cinnamon, cloves, and nutmeg.
Sorrel Punch (Jamaica) – The main ingredient of this deep red beverage is a type of hibiscus locally called sorrel (not to be confused with the bitter, green sorrel with which Americans are familiar), mixed with sugar, lime juice, fresh ginger and rum.
Uvzar (Ukraine) - This is a traditional Christmas Eve kompot (a non-alcoholic sweet beverage) made from apples, cherries, plums, pears, and raisins. These are all softened by simmering in water, and the drink is consumed cold.
Aliñado (Cuba) – This beverage is often associated with the Nativity, but it is traditionally made in anticipation of the birth of a child, prepared when a woman first announces she is pregnant and then aged for nine months; it's served to everyone who comes to admire the new baby. Its three main components are chopped tropical fruits, rum, and syrup.
In the spirit of the holiday, The World of Food wishes you…
Feliz Navidad, Seng Dan Fai Lok, Frohe Weihnachten, Joyeux Noël, Buon Natale, Wesołych Świąt, and Merry Christmas!