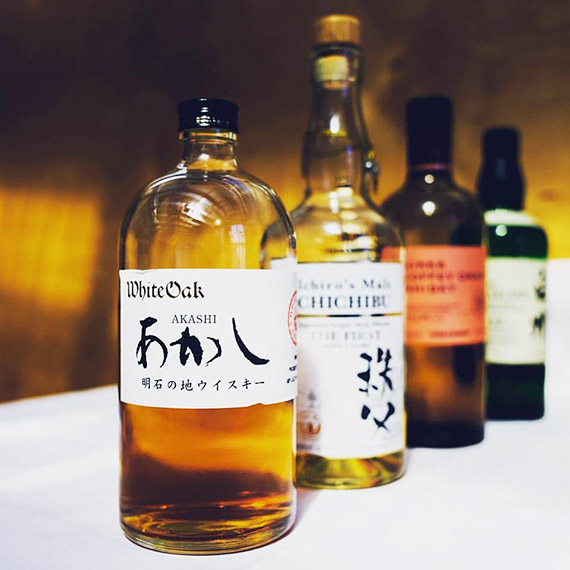 Japanese whiskey at Arami
Hello! This week on the show we take you to sample Japanese and Nepalese cuisine and even stop by one of POTUS's favorite spots (Valois) when he's in town! Our stops are Arami in West Town, Chicago Curry House in South Loop, and Valois in Hyde Park. I spoke with Ty Fujimura who is the owner of Arami, as well as a certified sake professional. He gives some guidance on how to have a fantastic dining experience at Arami, choose sake for you meal, and gives his advice on sake bombs. Here's what he had to say:
Q. Arami is not the ubiquitous standard Americanized-sushi joint. Can you talk a bit about the philosophy behind the cuisine at Arami and also speak to some of the biggest misconceptions about sushi and Japanese food in Chicago?
Ty Fujimura: My brother and I came up with the concept for Arami. Our idea was to present Japanese cuisine as a whole, not just sushi. And, we also wanted to showcase Japanese beverages as well, like sake, beer, and whisky. Some dishes are intended to show tradition and familiar flavor, while others are more forward thinking and contemporary. I think there is a general misconception that Japanese food starts and stops with sushi and raw fish. Or, that dining Japanese is "white tablecloth" or special occasion-only fare. We strive to make eating at Arami a casual, informed, and exciting experience that showcases all types of techniques and flavors. From the highest quality sushi and sashimi to Japanese BBQ, ramen, vegetarian, and much more. Ideally, the experience brings you back wanting more.
Q. What are the characteristics of traditional Japanese cuisine and what dishes highlight them best?
Ty Fujimura: Characteristics of traditional Japanese cuisine for me are simplicity, restraint, and balance. The idea that less is indeed more. The chefs do an amazing job of balancing flavor and texture. I think our sushi program really emulates this idea. The perfectly cooked and seasoned rice accents the flavors of the fresh fish. Other dishes like the Ishi Yaki Wagyu show how simplicity and impactful flavor can marry seamlessly in a dish.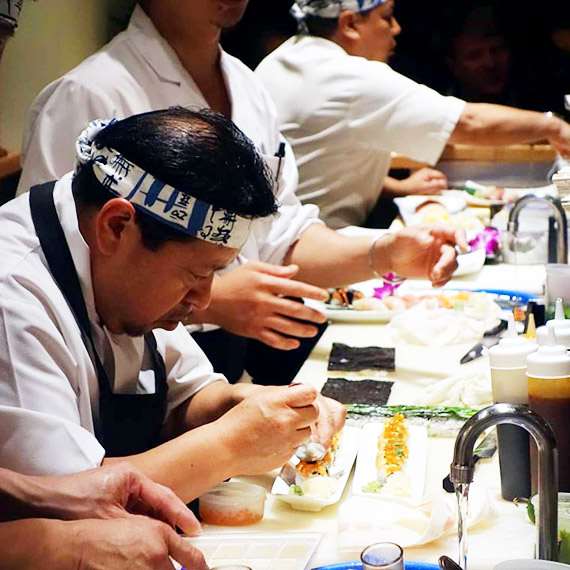 On the line at Arami
Q. There are so many tempting options on the Arami menu. What are some can't-miss dishes?
Ty Fujimura: I would recommend establishing a relationship with the server at the beginning of your stay at Arami. Let them know your likes and dislikes, and maybe your experience with the cuisine. From there, they will guide you through the menu. Dishes not to be missed are a selection of sashimi and nigiri from Chef Nelson. The uni shooter is very elegant and delicious. Anything off of the robata grill. Arami ramen for noodle lovers. And vegetarians rejoice with innovative sushi and maki selections.
Q. Let's talk sake! You have your own sake label that is brewed for Arami. Tell us about it.
Ty Fujimura: Our house sake, Ichi No Torii, is brewed exclusively for Arami in Sizuoka Japan. It is a custom brew designed to pair with our entire menu. We serve it warm and cold to make it as versatile as possible. It is a Tokubestu Junmai sake which means it is a special grade pure rice sake. The sake itself is a bit rich and dry, with some subtle sweetness. It is great with all types of dishes and drinks very easily. Especially with a cold beer on the back!
Q. Sake can be intimidating for many people. Can you give us a quick primer?
Ty Fujimura: First off sake is a perfect food beverage. It has a similar alcohol content to wine, about 15%. It is meant to be sipped like wine. Some people think it needs to be shot and has the strength of liquor. There are three basic types/levels of sake; junmai, ginjo, and daiginjo. Junmai style sakes are typically rich and dry, ginjo is fragrant and floral, and daiginjo is elegant and exceptionally smooth. Richer sakes are best for heavier and more robustly flavored dishes, and lighter sakes are for delicate dishes. The key is to taste as many as possible to find what you like. We offer many by the glass and also sake flights for those looking to sample a broad range of offerings.
Q. How do you feel about sake bombs?
Ty Fujimura: Say no to sake bombs!
Q. What are some of the standout selections on your sake menu?
Ty Fujimura: The Ichi No Torii is, of course, our number one sake at Arami. If you like fruit flavors, the Mabaroshi Mystery is wonderful. If woody is more your style, we have a cedar-aged sake called the Kiku Masamune Taru with hints of vanilla and pepper. For a masterful expression of sake brewing, the Dassai 23 is hard to beat.
Stay tuned after the holidays when we will return with more great restaurants and some more inside dish right here on my blog! Until then, have very happy and safe holidays. See you in a few weeks!
Cheers,
Catherine