View all Recipes
Pheasant Crespella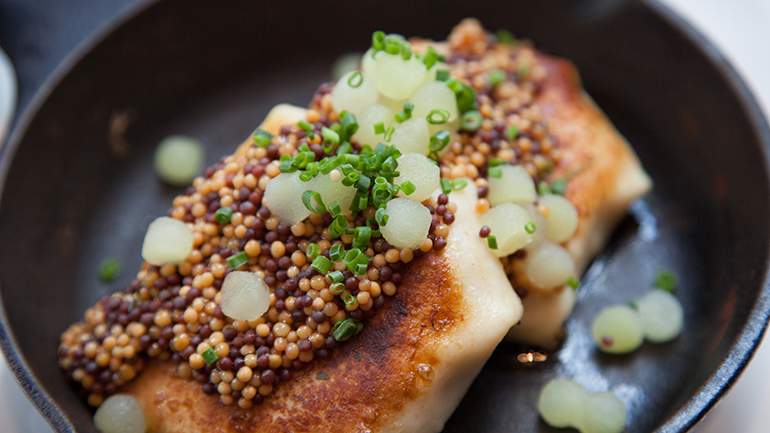 Chef: Derek Simcik
Serving for 5 People
Filling:
2 ½ pounds of ricotta cheese
1 ½ pounds of confit pheasant (duck confit or roasted chicken can be used as substitutes)
1 lemon juice/zest
1/8 cup of chopped thyme
1/8 cup of chopped flat leaf parsley chopped
1 tablespoon of celery salt
1 tablespoon of garlic powder
1 tablespoon of onion powder
½ tablespoon of nutmeg
Salt and pepper to taste
Directions:
First take the thyme and parsley and mince them up, then add the ricotta and pheasant confit and mix all together. Then take the juice and zest of two lemons and add to the mix, add all other ingredients and fold them in to the mix. Set aside.
Batter:
5/8 cup flour
1 cup whole milk
2 eggs
1/8 pound of butter (browned)
1 tablespoon of salt
1 tablespoon of sugar
Directions:
Start with the butter and add it to a warm pan, cooking until it starts to turn a light brown and there is a light nutty smell. Take it off the heat and set aside. In a bowl combine dry ingredients, add eggs and milk to dry ingredients while mixing together. Then whisk in the brown butter.
Take a small ladle and some batter to a small nonstick pan, and then swirl the batter around to coat the pan and make a thin crepe. Repeat until you run out of batter.
Take 2 ounces of the filling and wrap in the crespella like a pouch. Sear each "pouch" for 30 seconds in a cast iron pan and place in a 400 degrees Fahrenheit oven for 8 minutes or until center is warm. Serve with chopped apples or cranberry compote.