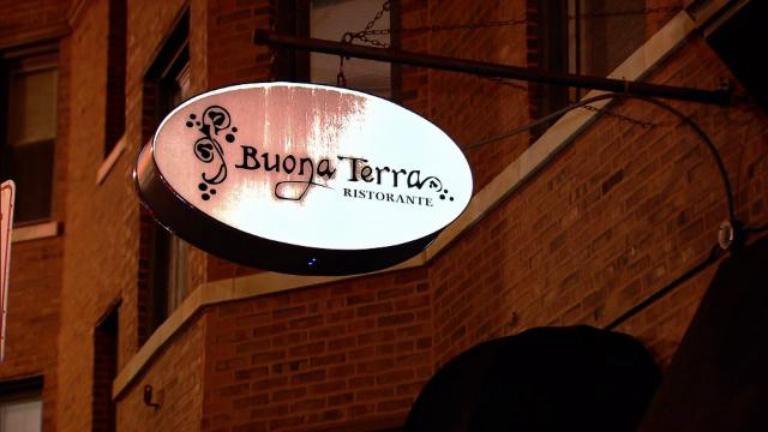 Our culinary tour of Chicagoland continues on this week's Check, Please! A great burger, classically prepared pasta dishes, and coq au vin are on the menu.
The tour begins in Evanston, where student and guest reviewer Amber introduces us to a campus favorite, Edzo's Burger Shop. This is not a low-calorie experience, so save room! At Edzo's you can build a burger that is the envy of all other burgers. It starts with a fresh (never frozen) choice chuck. Aside from a selection of locally-raised beef options, you can also choose to have a "Griddled" burger, which is pressed down thin on the grill making it crispy or the "Char" burger, which is left thick and juicy. Finish your burger with a selection of cheeses and toppings. For a side, they are hand-cut, twice-cooked potatoes that can be made plain, with garlic, gravies, sauces, and more. And Amber tells us your meal is not complete without a milkshake. They use an old-fashioned Multimixer spindle machine which blends the shakes at a slower speed than modern mixers. According to the Edzo's website, this older machine whips in less air, so the shake is creamier. During our visit to Edzo's, our crew raved about these shakes, specifically the addictive Nutella shake. Edzo's owner and Chef Eddie Lakin is not your average burger-joint cook. After culinary school he worked in European kitchens and many fine dining restaurants in Chicago, but his desire was for something a little different life. He wanted to prepare delicious food at his restaurant and still be home in time to have dinner with his family. So, if you're going to try Edzo's, get there before 4:00 pm because they're only open for lunch (and late lunch).
Next, we visit Chicago's latest restaurant hot spot, Logan Square. Over the past few years many high quality restaurants have popped up in Logan Square, like Hachi's Kitchen, Lula, and El Nandu. I actually grew up in Logan Square… it wasn't such a young and hip place to be back then. It is such a pleasure to visit and see such businesses thriving. On this week's show, guest reviewer Adam shared his favorite Italian eatery in Logan Square, Buona Terra Ristorante. The cuisine is classic Italian and Chef Jose Garcia adds a special flair to each of his signature dishes. The farm-to-table fresh ingredients were a hit with our reviewers, as well as the crew who took home extras to share with their families on the day of the shoot. This vibrant restaurant is intimate, warm, and relaxing – and definitely a great place for a date night. Amber says it's her new favorite place in Logan Square, and all of the reviewers agreed it was a delicious experience that is priced right. Check them out on Thursdays when they have a fantastic prix fixe menu for $21.95.
Finally, this week's culinary tour ends with a relaxed, French dining experience in Oak Park at Hemmingway's Bistro. Guest reviewer Reggie and his wife enjoy finding a nice, relaxed place to have a great meal and he says Hemmingway's is one of their favorites. This restaurant has a classy, elegant feel. The owner and Chef Christopher Ala has worked in kitchens all over the world and brings that experience to his French menu. The dishes are delicious and elegantly presented. However, there is a price to this elegance, so our guest reviewers all agree that Hemmingway's is more of a special occasion restaurant.
Here's a little insider information on the production of this episode: our bartender did not show up for the taping of this episode but, as they say, the "show must go on" and we needed to have a bartender. Executive Producer David Manilow grabbed a dish towel and slid right into the role! Watch closely during the discussion segments and you might see him pouring wine and busily maintaining the bar in the background. Hitchcock would be proud.
Happy Eating!
Carmen M. Schmidt
Associate Producer, Check, Please!
WTTW