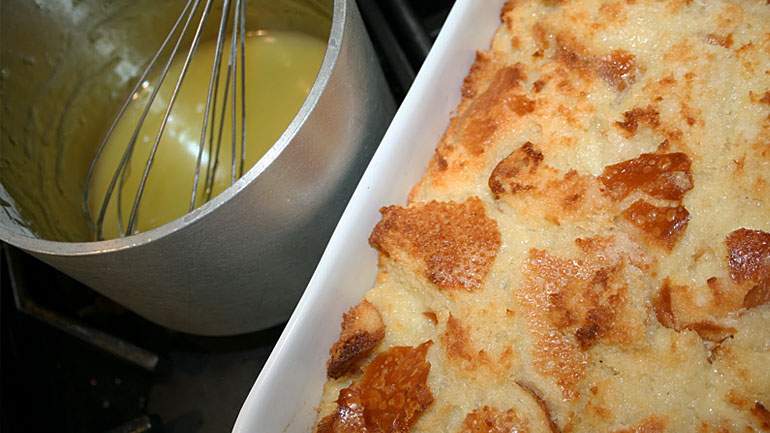 Ingredients:
3/4 pound (about 5 cups) of French Bread – cubed
6 eggs
2 cups of sugar
3 cups of condensed milk
1 cup of whole milk
2 tbs of pure vanilla flavor
¼ tsp of nutmeg
¼ tsp of cinnamon
1 cup of butter
¼ cup of golden raisins

Lemon Sauce Ingredients:
3 lemons
½ cup concentrated lemon juice
½ cup sugar
1 cup water
corn starch

Directions:
In a large bowl, combine eggs and sugar, mixing well. Add milk, vanilla, nutmeg and cinnamon. Place bread cubes in a buttered two-quart baking dish. Sprinkle raisins and butter pats over bread. Pour egg mixture over the bread. Make sure all cubes are covered and or submerged in the liquid. Cover pan with foil and bake on middle oven rack at 350° F for 1 hour and 15 minutes. Place pan of water on lower oven shelf directly beneath pudding.

Directions for Lemon Sauce:
Squeeze lemons into bowl, add lemon juice, sugar and water and bring to a boil on the stove. Reduce heat and add desired amount of corn starch and water for thickness.