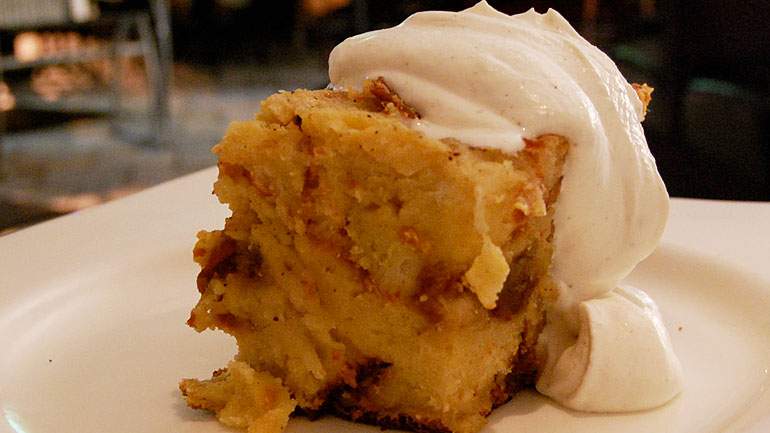 Ingredients for Bread Pudding:
1 pound French bread cut into 1 inch cubes (day old bread is great)
2 cups milk
2 cups heavy cream
3 Tablespoons butter, melted
2 eggs, slightly beaten
2 cups sugar
2 Tablespoons vanilla extract
1 teaspoon ground cinnamon
1 cup raisins

Directions for Bread Pudding:
1. Place bread cubes in a buttered 9x13 inch baking dish.

2. Add the raisins and mix through the bread cubes.

3. Mix together the milk, cream, butter, eggs, sugar, vanilla, and cinnamon.

4. Pour mixture over the bread cubes, making sure that all of the bread in covered.

5. Bake at 375 degrees until the pudding is set, about 1 hour.

6. Serve warm with the whiskey sauce.

Ingredients for Whiskey Sauce:
Salted Butter ¼ cup
Brown Sugar 1 cup
Vanilla 2 Tablespoons
Corn Syrup ¼ cup + 2 Tablespoons
Early Times Whiskey ¼ cup + 2 Tablespoons
Lemon Juice 1 Tablespoons
Salt pinch

Directions for Whiskey Sauce:
1. Place all ingredients into large saucepan.

2. Bring to a boil and reduce heat.

3. Continue cooking on low heat for approximately 10-15 minutes or until syrup begins to hold shape as it drips from the spoon.