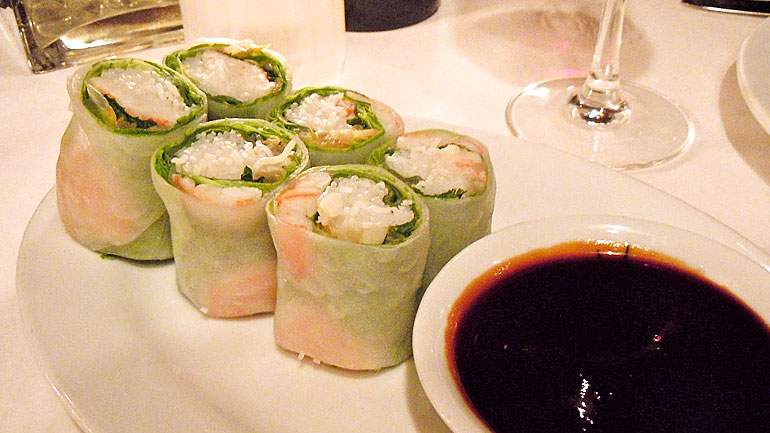 Ingredients:
4 pieces of dried rice paper (medium sized)
4 oz. cooked noodle
12 medium shrimp, cooked, shelled and deveined
4 pcs. Soft lettuce
2 oz. bean sprouts
12 mint leaves
4 pcs. Chinese chives

Directions:
Fold or cut off sides or rice paper, soak in very hot water and allow to rest on a kitchen towel to absorb excess water. Roll in shrimp, lettuce, noodles, bean sprouts, chives. Serve with peanut sauce (see below).

Ingredients for Peanut Sauce:
1 t. chopped garlic
1 T. chopped onion
¼ C. hoisin sauce
2 T. peanut butter
1 t. sugar
¼ cup water
1 T. vegetable oil
1 T. coconut milk

Ingredients for Garnish:
1 T. Chopped peanuts
1 T. Chopped fresh chili

Directions:
In small sauce pan, heat oil and saute onions and garlic until fragrant but not brown. Add remaining ingredients and simmer for 5 minutes. Garnish sauce with chopped peanuts and chili.