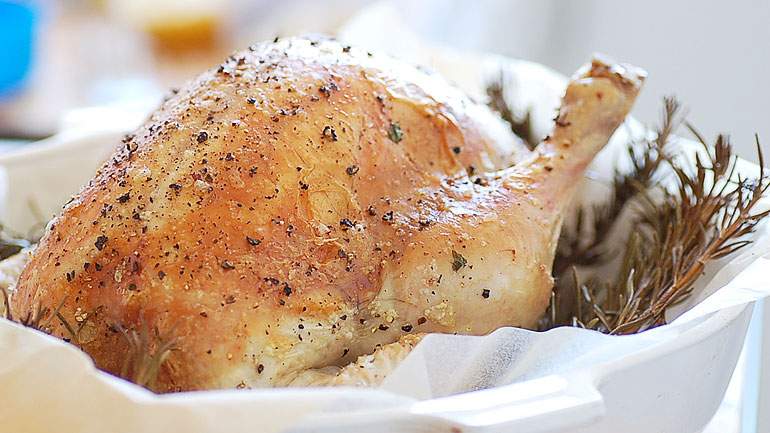 Ingredients:
4 lbs. Whole chicken
15 cloves garlic (peeled)
2 sprigs rosemary
salt and pepper to taste
½ cup olive oil
8 baby red potatoes (cut into quarters)
3 ounces lemon juice
> 1 ounce chives for garnish
1. Rinse chicken under cool water

Directions:
In bowl combine crushed garlic, salt, pepper, and rosemary and make into paste consistency. Add olive oil to mix and rub into cavity of chicken as well as under and over the skin. Wash and cut potatoes and put aside. Place chicken in large pan and roast in preheated oven at 350° F for 45 minutes. Remove from oven and deglaze pan with lemon juice, add chicken stock or water. Then add potatoes and place pan back into oven and continue to cook for 30 minutes. Basting chicken during those 30 minutes. After 30 minutes, remove chicken and place onto platter. Put pan onto the stove and cook until sauce glazes potatoes. Serve potatoes and sauce around chicken and garnish with chopped chives.