View all Recipes
Pumpkin Soup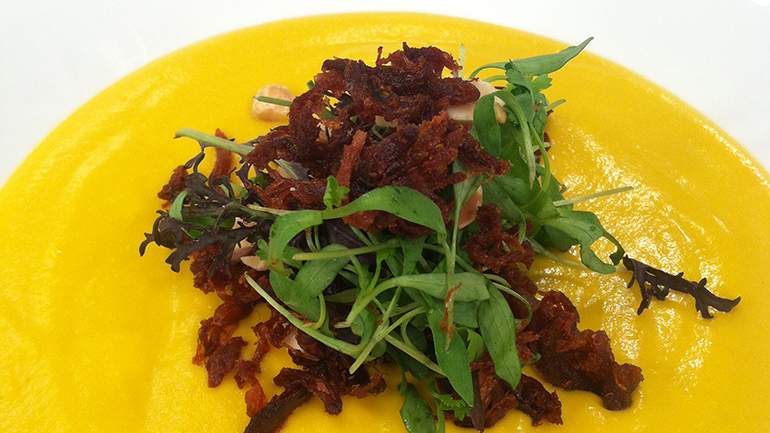 Chef: Erick Williams
Ingredient List:
4 tablespoons of butter
2 onions, diced
2 ounces of ginger
3 cups of fresh pumpkin, roasted and removed from the skin, see note below
7 cups water
4 ounces of honey
¼ teaspoon of cinnamon
½ teaspoon of nutmeg
2 cups of cream
2 teaspoons of Salt
2 teaspoons of freshly ground pepper
Directions:
In a stockpot over medium heat, melt butter and sauté onion about 8-10 minutes over med heat stirring occasionally, add ginger and sweat for four minutes and add roasted pumpkin, honey and stir, add the water and simmer for 15 minutes. Then add the cream and simmer for 5 more minutes, lowering the heat if necessary so it does not boil. Season, to taste, with salt and pepper.
Divide soup among 8 soup bowls and serve immediately.
Cook's Note: To roast pumpkin, preheat oven to 400 degrees Fahrenheit. Cut whole pumpkin in half and then scoop the seeds and discard or save for later use. Drizzle the olive oil in the inside and rub it into the pumpkin. Season the inside of the pumpkin with salt pepper and a little of the cinnamon and nutmeg, place the pumpkin halves skin side up on a wax paper lined sheet tray (baking sheet) and roast in the oven until fork tender, about 30-40 minutes. Let cool and peel away skin.