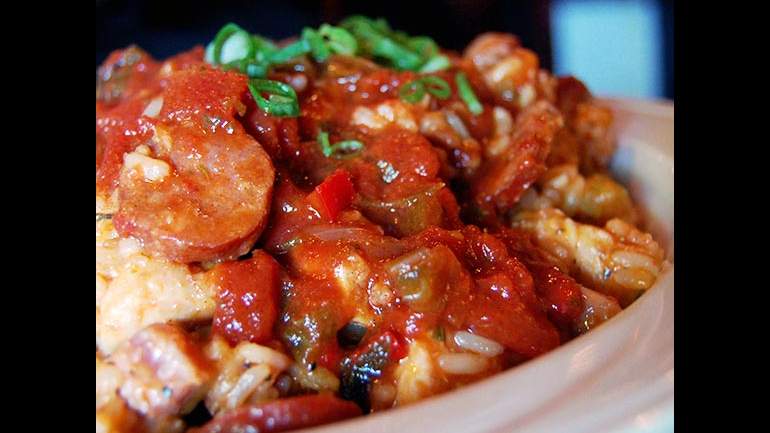 Ingredients:
2 Chicken Breasts Cut Up In Bite Size Chunks
3 Tbsp of Olive Oil
1 lb of Smoked Sausage, Cut Into ½ Inch Slices
2 Cups of Chipped Onion
1 Cup of Chopped Celery
3 Garlic Cloves Minced
6 Full Green Onions Chopped
1 Cup of Long Grain Rice
1 Green Bell Pepper Seeded and Chopped
5 Cups of Chicken Stock
1 15 oz Can of Tomato Puree
1 tsp Salt
1 tsp Pepper
1 tsp Cayenne Pepper
1 Bay Leaf
1 lb of Broken Shrimp

Directions:
Cook the chicken in the olive oil for 15 minutes turning once or twice. Add the sausage, and cook for another 15 minutes.

Remove the meats from the pot. Discard all but about 2 tablespoons of the drippings. Add the onion, garlic, green onions, celery and green peppers, sauté stirring for about 5 minutes.

Return the meats to the pot. Add the chicken stock, tomato puree and spices. Bring to a full boil. Add the rice. Cook for 10 minutes, add shrimp and cook until rice and shrimp are done.