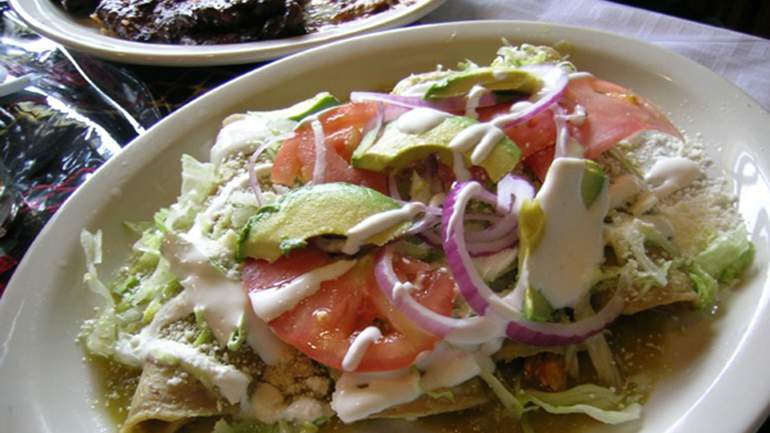 Serving for 4 People
Ingredient List:
2 boneless chicken breasts
2 jitomates picados
1 cebolla mediana
½ teaspoon of chopped garlic
1/6 teaspoon of ground black pepper
1 table spoon of veggie base
2 bay leaves
16 corn tortillas soft not hard shell
Salsa:
10 tomatillos
4 jalapeños desvenados
3 cloves
6 pimienta negra
3 garlic cloves
¼ tea spoon cumin
2 bay leaves
½ cup veggie base
Kosher salt to taste
Toppings:
4 cups shredded lettuce
2 cups sliced tomato
1 cup red onion slice
1 avocado slice
1 cup loose sour cream
1 cup sprinkle cotija cheese
Directions:
Boil the tomatillos and jalapeños until tender and then remove from them out of the hot water. Clean off jalapeños of veins and seeds. Blend all the ingredients listed under salsa except for the bay leaves.
In a sauce pan in medium heat, with ¼ cup of vegetable oil, caramelized ½ chopped yellow onion, when done add the blended ingredients and the 2 bay leaves reduced heat to low and bring to boil.
Clean chicken off the fat and skin, boil with a quart of water, one whole med garlic, whole med yellow onion, 2 bay leaves and kosher salt to taste, boil until almost fully cook, remove from water and shred by hand the chicken.
Put another pan on med heat and add ¼ cup vegetable oil, heat add onions, tomatoes, garlic, ground black pepper, veggie base and 2 bay leaves, one cup of chicken broth (from the chicken that you cook)
Add chicken boil for about 5-10 minutes
Now let's assemble the enchiladas, in a hot skillet or pan (dry) heat the tortillas, when warm and soft dipped in tomatillo sauce one at a time, stuffed it with chicken and put it aside on a pan until you do all of them.
When serving, arrange it on a plate 4 at a time covered enchiladas with boiling tomatillo salsa, spread on top the lettuce, tomatoes, red onion, avocado, drizzled with sour cream. And sprinkle cheese.