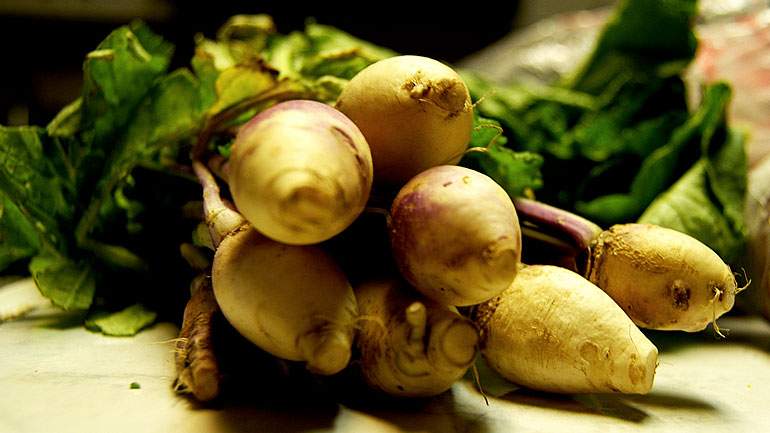 Ingredients for Guinea Hen:
Four breasts of guinea hen
3 cloves garlic
3 teaspoons grated ginger
approximately 1 tablespoon extra virgin olive oil

Directions for Guinea Hen:
1. Make paste of garlic and grated ginger.
2. Add extra virgin olive oil to make a slush.
3. Slather the inside flesh of each guinea hen with the mixture and fold in half.
4. Wrap in plastic and marinate.

Ingredients for Sweet Onion Puree:
2 onions
1 tablespoon butter
pinch each salt, pepper and sugar
2 potatoes (starchy variety, approximately ½ pound each)
salt and pepper, to taste

Directions for Sweet Onion Puree:
1. Coarsely chop the onion and slow-cook in butter with a pinch each of salt, pepper and sugar.
2. Cook until translucent, at least one hour.
3. Puree at high speed to make a puree.
4. Peel and cube potatoes.
5. Place in salted water, bring to a boil and cook until tender.
6. Rice potato and add to pureed onion.
7. Season to taste with salt and pepper. Set aside.

Ingredients for Vegetables:
8 baby carrots
8 baby turnips
2 tablespoons butter
pinch of sugar
1 tablespoon water
salt and pepper

Directions for Vegetables:
1. Peel and split in half baby carrots.
2. Wash baby turnips well and split in half.
3. Pan-braise vegetables separately until tender, cooking each in half the butter and water and a pinch of each of salt, pepper and sugar.

Ingredients for Preserved Lemon:
4-5 large, thick-skinned lemons
2/3 cup coarse sea salt (may use up to one cup)
½ cup lemon juice
Olive Oil

Directions for Preserved Lemon:
1. Halve lemons and cover with salt with a squeeze of lemon juice and olive oil to cover.
2. Marinate for 4 weeks. Or purchase preserved lemons.

Ingredients for Guinea Hen:
Marinated guinea hen
½ cup rich chicken stock
2 tablespoons butter
splash lemon juice
½ t crushed coriander seed
½ t julienned picholine olives
1 t diced preserved lemon
½ t finely sliced cilantro
½ teaspoon grated ginger

Directions for Guinea Hen:
1. Sear guinea hen, skin side down, browning completely on one side.
2. Turn guinea hen, and remove pan to oven at 350F to continue cooking.
3. Remove guinea hen from pan and set aside.
4. Deglaze pan with chicken stock, reduce to au sec and mount in butter.
5. Add lemon juice, coriander seed, picholine olives, preserved lemon, sliced cilantro, grated ginger.

To Plate:
Place approximately 2 tablespoons potato and onion puree on center of plate. Fold guinea hen in half and place two halves on top of puree. Place vegetables around guinea hen and spoon sauce over top.