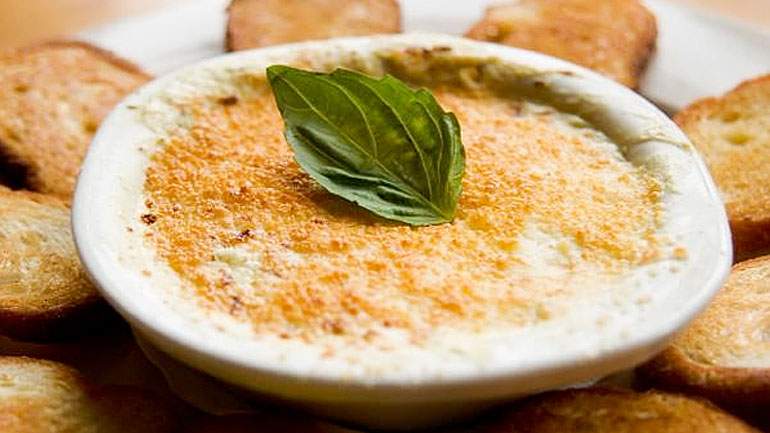 Served with olive oil crostini

Uncommon Pesto Ingredients:
2 Cups Fresh Basil Leaves
1/3 Cup Toasted Walnuts
½ Cup Parmesan Cheese
1 Tsp Black Pepper
1 Tsp Kosher Salt
1 Cup Extra Virgin Olive Oil

Uncommon Pesto Directions:
Combine ingredients in a food processor and blend until smooth.

Ingredients:
1 lb Goat Cheese
1 lb Neufchatel cream cheese
1 Cup Uncommon Ground Pesto (See pesto recipe above)
1 Cup half-n-half
2 lbs Artichoke Hearts Quartered

Directions:
Soften goat cheese and neufchatel cheese to room temperature.

Put goat cheese and neufchatel in a food processor and blend until smooth, no lumps.

Add pesto, half-n-half, artichoke hearts and pulse until combined evenly.

Season with salt and pepper to taste as necessary.

Pour into an oven-proof casserole dish and top with grated parmesan cheese.

Bake at 350° F for 10-12 minutes or until top becomes golden brown.

Serve with olive oil crostini or your favorite crispy bread or crackers.

Enjoy!