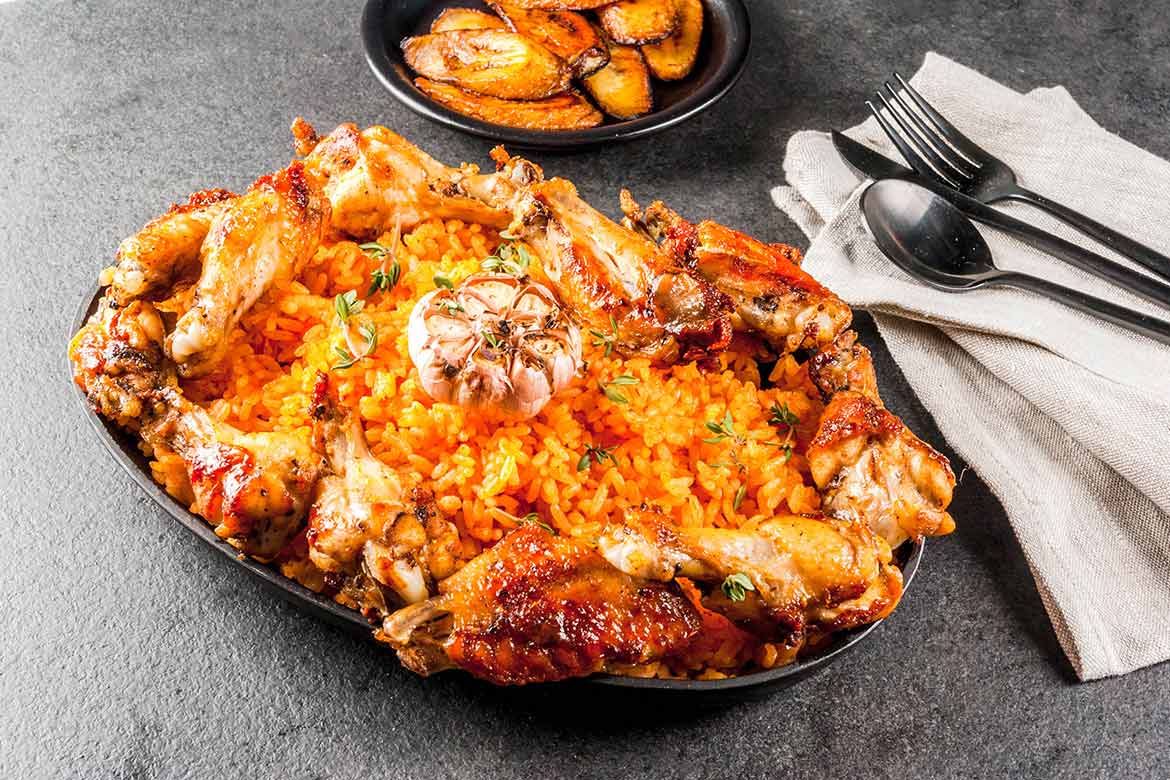 Jollof rice
Check, Please! has exposed all of us to many exotic cuisines over the years, but this week, we take you to an area not as often represented on the Chicago area dining scene: West Africa. In honor of one of this week's chosen restaurants, Simi's in the West Rogers Park neighborhood, let's take a closer look at this region and its unique and flavorful cuisines.
A little geography: the region of West Africa is composed of 16 countries (in alphabetical order): Benin, Burkina Faso, Côte d'Ivoire (Ivory Coast), Gambia, Ghana, Guinea, Guinea-Bissau, Liberia, Mali, Mauritania, Niger, Nigeria, Senegal, Sierra Leone, Togo, and the Cape Verde islands. Depending on the latitude, you might experience anything from temperate wetlands to arid desert, and across this culturally diverse territory, more than 1,000 languages are spoken. As is often the case, the foods that are grown in this region are heavily influenced by what the climate and soil quality will accommodate.
Due to the rainy summer growing season, vegetables (okra, bell pepper, tomato, cabbage, onion) and tropical fruits (mango, citrus, melons, plantains, pineapple, avocado, etc.) are plentiful, but they are seldom the main component in West African dishes. That distinction is reserved for starches, which are easy and inexpensive to grow, and an important part of almost every meal. The most popular of them include corn, rice, sweet potatoes/yams, millet, and cassava, which is derived from a tropical tree root. Cassava is milled into flour and then mixed with plantains, rice, or potato (depending on the region) to make a dough called fufu (or foofoo), which is served with soups and stews. Interestingly, given that it's rather tough, it can be formed into a spoon-like utensil to eat with…after which you can eat the spoon! You can also make patties out of cassava…mash them with spices and fry them in oil, and they're very much like crispy potato pancakes.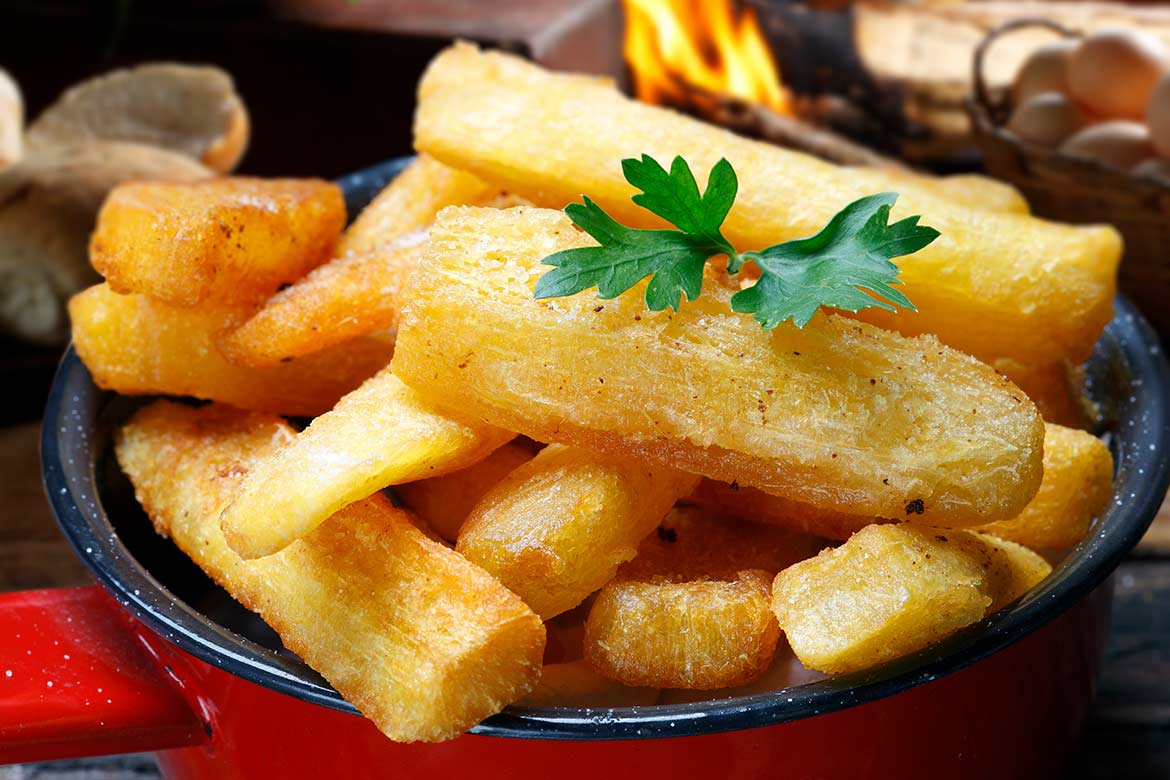 Fried cassava
A note about meat: while you will seldom find beef in recipes locally (cows are expensive and are generally treasured for their milk), seafood, poultry, goat, and pork are widely available. (And you will find beef in U.S. restaurants, of course.)
If you have a peanut allergy, be careful in West Africa – peanuts are a dominant crop and they, and the oil derived from them, are added to many dishes. (If peanut oil is off your list, there is also red palm oil, made from palm nuts…the local equivalent to olive oil.) One other caution: as far as spices go, you might want to watch out for cayenne pepper, ginger, and chilies which are very strong; consume them sparingly if you're sensitive to spicy foods.
One of the most popular mainstays is Benachin, or Jollof Rice, which is a golden yellow rice dish you will find everywhere in the region; its standard ingredients aside from rice are ground tomatoes, salt, onion, and red pepper. After that, each country adds its own touches of meats, fish (or fish powder), and vegetables – for example, its Senegalese incarnation, thiebou djeun, is widely considered to be the country's national dish, and is reminiscent of Creole jambalaya and Spanish paella.
Another popular mainstay is Maafe (or groundnut stew). This, not surprisingly, is a stew made from ground peanuts with (varying depending on the country) rice, couscous, sweet potatoes, or fufu (see above), and seafood, mutton, or chicken. And as is customary in West Africa, you will find tomatoes, chilies, and onion mixed in with some versions. Think of it as a stew with a hint of peanut butter.
What to drink? As far as non-alcoholic beverages go, ginger beer (a refreshing mixture of simmered ginger, water, lemon juice and honey, served over ice) and fruit juices are popular – you can, of course, convert your fruit juice into a cocktail by adding vodka or rum, plus a spice such as cinnamon bark or vanilla bean. There's another popular non-alcoholic drink called Zobo, made from the flowers of a hibiscus plant, the roselle – it's customary to add other fruits and spices (even chilies) to taste. Locally roasted coffee and black and green teas are also available; these are all served with milk and sugar and sometimes garnished with fresh mint.
Desserts generally incorporate fruit as well – especially bananas and coconut, which are used in cakes, candies, puddings, and ice cream. In Nigeria, you will want to try Puff Puffs – balls of raised yeast dough, deep-fried until they are a crunchy golden brown. Serve with jam or other doughnut-like toppings/fillings. Also particular to the region is a sweet and creamy pudding called Chakery that incorporates couscous, vanilla yogurt, sour cream, and evaporated milk, plus pineapple and a dash of nutmeg.
In addition to Simi's, there have been a few other African restaurants reviewed on Check, Please! Hopefully this piece will inspire you to sample them – a great way to visit an exotic area of the world, without ever leaving home!