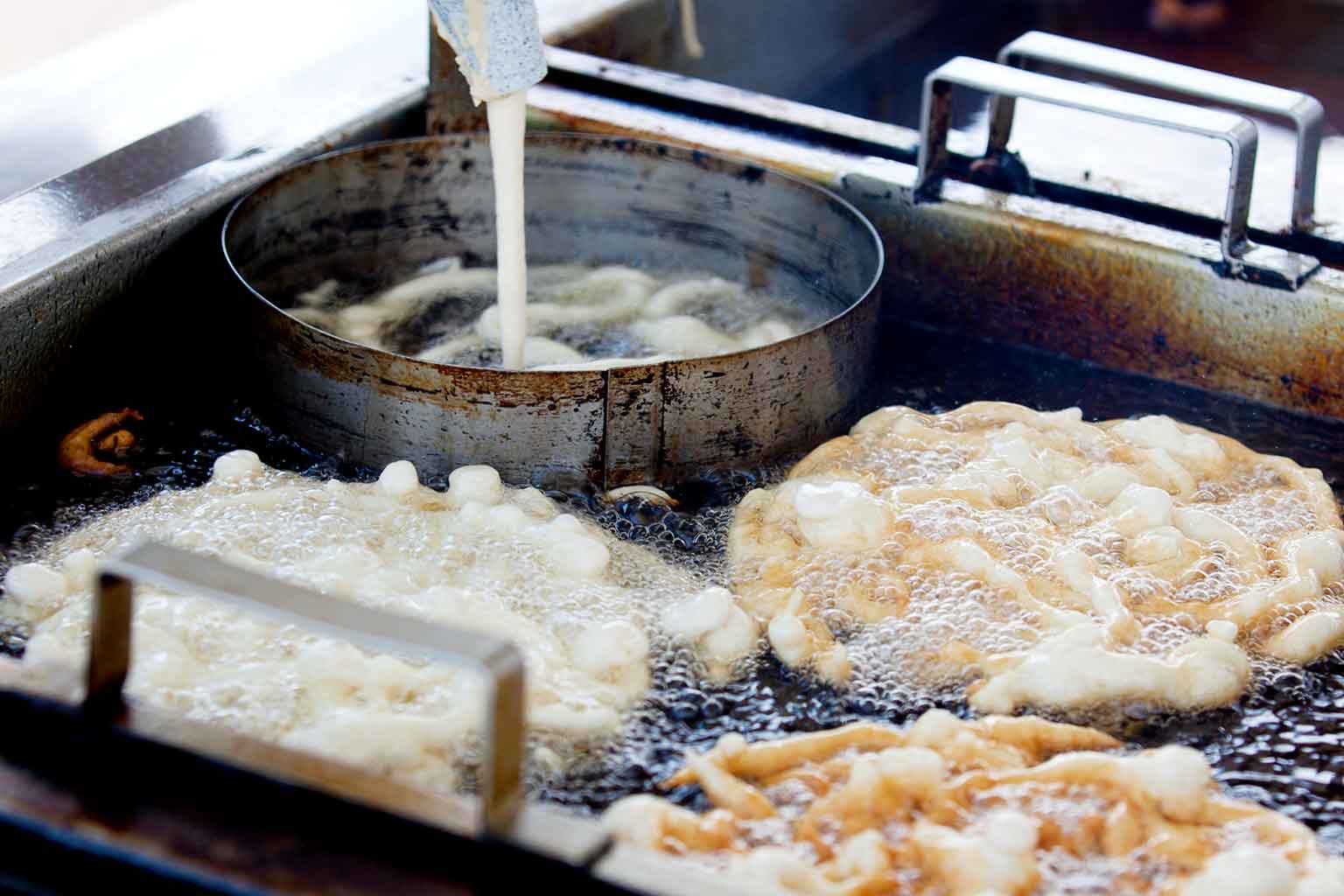 Funnel cakes being made
"Our State Fair is a great state fair
Don't miss it, don't even be late
It's dollars to doughnuts at our state fair
It's the best state fair in the state…"
— Rodgers & Hammerstein
"State fairs are the confluence of the garish and the profound." — Douglas Wissing

Say the word "summer," and in certain areas of the country, the word conjures up images of carnival rides, livestock competitions, and (needless to say) fattening cuisine.
Yes, State Fair season is upon us! "Cuisine" might be a bit of an overstatement when it comes to your culinary options once you hit the crowded midway. But it's undeniably food and people are eating it, so let's take a quick look at some innovative sweet and savory dishes on the nearby State Fair circuit. One constant: If a food or beverage (yes, beverage!) can be mounted on a stick and deep-fried, some genius has figured out to do it. That said, get ready…get set…EAT! (We won't judge.)
Illinois: The Land of Lincoln (also "the land of the butter cow," a true art form) offered such popular food items last season as lobster mac 'n' cheese, strawberry shortcake funnel cakes, slaw dogs, and the "Tornado Potato," a long, spiral-shaped French fry on a wood skewer inspired by a popular street food in South Korea. Deep-fried item: S'Mores.
Indiana: Our neighbors in Hoosierland enjoyed a wide variety of State Fair concessions, including chili-mac corn dogs (made with turkey and stuffed with chili, mac 'n' cheese, and jalapenos); chocolate-covered bacon, and lamb donut burgers (with donuts replacing the hamburger buns). Deep-fried item: peanut butter and jelly sandwiches.
Wisconsin: What did Fairgoers find at the State Fair in "America's Dairyland?" Ballpark tater tots, the iconic Cream Puff (a bestseller since 1924, available individually or in three- or six-packs), cricket nachos (yes, with real crickets, which are touted as "a protein"), and cinna dogs. Deep fried item: cheese curds (of course!). Also: deep-fried Nutella. Go, Badgers!
Minnesota: The Land of 10,000 Lakes offered such delicacies as the Bacon Fluffernutter (peanut butter, bacon, and marshmallow cream sandwiched between two grilled cinnamon rolls); Cherry Bombs (deep-fried red licorice that tasted, as one person asserted, "like lipstick"); SPAM curds, and cranberry wild rice meatballs with lingonberry sauce. Deep-fried item: jalapeno olives. Bonus: you can wash all of it down with an Adult Red Bull Slushie. As the locals say: "Yah, you betcha!"
Iowa: The Hawkeye State outdid itself last summer with such offerings as the Pork-Almighty (beer battered fries drenched in cheese sauce and topped with shredded pork, barbecue sauce, sautéed onions, shredded cheese, and green peppers); the Cheesy Fried Enchilada Funnel Cake; and the Mt. Vesuvius Bruschetta Sundae (various Italian things on ciabatta bread). Deep-fried item: Thanksgiving Balls — essentially, a Thanksgiving dinner rolled into a ball, dipped in an herbed stuffing batter, deep-fried, and served with cranberry sauce. Efficient, if nothing else.
Nebraska: The Cornhuskers lived up to their name with their kettle corn, corn dogs, and Waffle Dogs, a hot dog wrapped in a corn meal waffle. Also notable: the Gelato Cannoli, the Redneck Rueben, and a tamale "slammer" that includes honey-barbecue Fritos. Deep-fried item: Pop-Tarts.
Ohio: Welcome to the Buckeye State! At their State Fair, patrons chowed down on Cereal & Milk Ice Cream, Tot-Choes (tater tots meet nachos; enough said), barbecued beef on a stick, banana pudding, and bacon-wrapped Oreos. Deep-fried item: gummy bears.
Here are a few notable representatives from State Fairs further afield:
Kansas: Nitro ice cream (ice cream made with liquid nitrogen; this was a popular theme)
Tennessee: The Hot Beef Sundae; also deep-fried Little Debbie snack cakes and Goo-Goo Clusters
Florida: Southern Catfish Sundae; Chicken 'n' Waffles Pizza
Texas: Deep-fried bubble gum (don't worry — it's only marshmallows dipped in bubble gum-flavored batter that has been dyed pink).
California: Spaghetti ice cream. The ice cream is squeezed through a press so that it looks like linguini; the "marinara" is strawberry sauce; and it's sprinkled with chocolate shavings to simulate parmesan. (Sounds pretty good, actually!)
Virginia: The Krispy Kreme Sloppy Joe (just what you would imagine)
Arizona: Deep-fried scorpions; mealworm-covered caramel apples; and the "maggot-melt" sandwich. (Clearly, Arizona is not for the timid.)
Alaska: Reindeer hot dogs.
Utah: Deep-fried green Jell-O (you may recall that Jell-O is the official snack food of Utah).
Idaho: Ice cream potato (a baked potato topped with ice cream instead of sour cream. Because it's Idaho).
Various: Deep-fried Kool-Aid, deep-fried beer
And finally, to be found at various State Fairs: deep-fried butter. Which pretty much says it all, doesn't it?
Have fun this summer, which will surely usher in even more fantastic food inventions! Leave your calorie-counter at home and stock up on antacids — you'll need them!