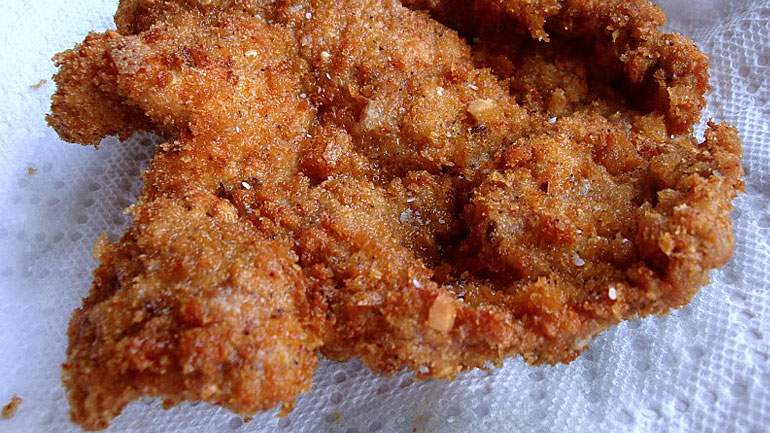 Ingredients:
4 pieces (3oz each) of pork tenderloin medallions, pounded and seasoned with salt & pepper
Flour seasoned with salt and pepper
2 eggs beaten with 1 Tbsp of water
Panko bread crumbs (Japanese-style bread crumbs)
2 Tbsp of butter
2oz of Vegetable Oil

Ingredients for Apple-Brandy Cream Sauce:
2 Tbsp of butter
1 Granny Smith apple, cored and diced into thin wedges (about 16 slices)
4oz of Brandy
4oz of Apple Juice Concentrate
8oz of Heavy Cream
Salt (to taste)
Pepper (to taste)
Chopped Parsley (for garnish)

Directions:
Preheat oven to 200° F. Dredge medallions in the flour, shaking off excess, then put in to the egg wash and finally into Panko bread crumbs, patting crumbs so that they adhere to the medallions. Preheat large skillet with oil and butter over medium-high heat and saute until golden brown on both sides and cooked through (about 3-5 minutes on each side). Blot off medallions on paper towel and keep warm in preheated oven. Wipe skillet of excess grease. Melt butter, add apple wedges and saute until lightly browned. Remove skillet from heat and carefully flame with brandy. Add apple juice concentrate and cream. Boil for several minutes until lightly reduced to sauce consistency. Season with salt, pepper and parsley. Remove medalllions from oven. Plate and top with sauce. Serve with wild rice pilaf and vegetables.