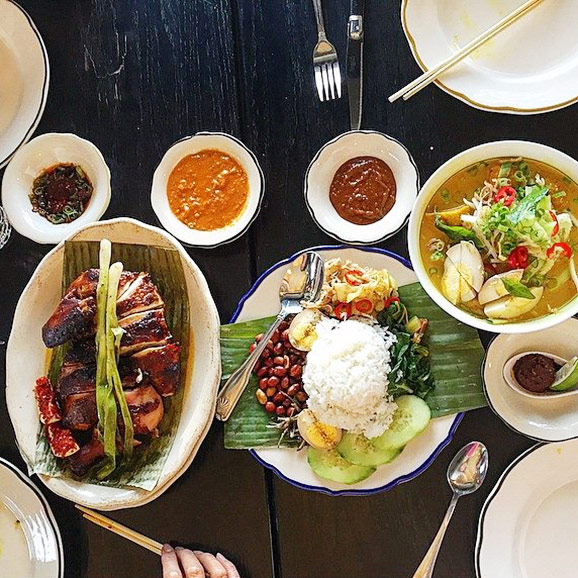 Fat Rice sampling
Hey there! It seems that winter has officially arrived and the restaurants on this week's episode are perfect places for warm-your-belly, comforting food. Our stops are River Roast in River North, La Largartija in West Loop and Fat Rice in Logan Square. Fat Rice is unique in that it is the only restaurant serving Macanese food in Chicago. This week, I spoke with chef/co-owner Abraham Conlon and co-owner/director of operations Adrienne Lo of Fat Rice to get the lowdown on Macanese cuisine. Here's what they had to say:
Q. What is Macanese food?
Abraham Conlon: Located along the Pearl River Delta, an hour's ferry ride from Hong Kong lies Macau, a former Portuguese trading port. Truly unique, the food of Macau has developed over the past 500 years and blends the traditions, techniques, and ingredients of the maritime Portuguese. The bold and unusual flavors of Macanese cuisine are built upon ingredients such as tamarind, curries, soy sauce, olive oil, Portuguese sausages, Chinese cured meats, and salt cod as well as many other seemingly incompatible ingredients from Portugal, China, Malaysia, and India. Some traditional dishes include Galinha á Africana (African chicken), Porco Balichang Tamarindo (pork belly stewed with tamarind and shrimp paste), and Minchi (a ground meat dish flavored with soy sauce, Worcestershire and bay leaf).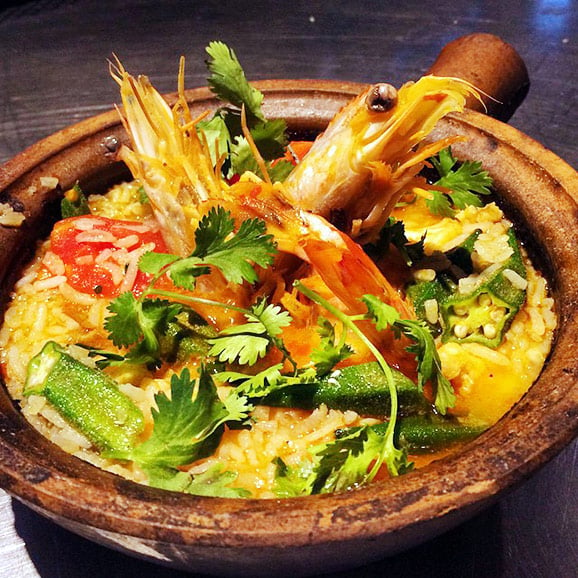 Monkfish and prawn stew at Fat Rice
Q. This Fall you released your first cookbook, The Adventures of Fat Rice: Recipes from the Chicago Restaurant inspired by Macau. Can you tell us a bit about it and call out some of your favorite recipes as well as those you think are most approachable for the home cook?
Abraham Conlon and Adrienne Lo: The Adventures of Fat Rice, documenting the first couple of years at the restaurant, is a fun book with easy-to-follow recipes that capture the spirit of Fat Rice. It showcases our interpretations of many classic Macanese dishes that we learned from research and travel, along with some Fat Rice originals that have been inspired by the food of Macau and similar Eurasian communities.
Some of the most approachable recipes are:
Minchi Hash: Minced pork and beef with coconut rice and fried egg
Macau chili prawns: Stuffed with chili, garlic, and fermented black beans sautéed with wine and butter
Capela: Macanese Meatloaf with pork, beef, bacon, pine nuts, almonds, and cheese
Charlie's peanuts: Boiled and marinated in sweet soy with shiitake mushrooms, burdock, and lotus root
Tea eggs: Hard cooked eggs marinated in soy and tea
Our favorites:
Baked Pork Chop Rice: Fried rice with a fried pork chop, baked with coconut curry and cheese
Portuguese chicken: Curry chicken thighs with chorizo and olives
Malaysian BBQ seafood: Clams with tamarind and chili, and Whole steamed snapper with spicy sambal
Sopa de Lacassa: A spicy shrimp and noodle soup
Serradura: Sweet cream cheese mousse with guava and tea biscuit crumb
Q. Which five ingredients should be in every Macanese pantry?
Abraham Conlon and Adrienne Lo: Balichao (shrimp paste), Tamari soy sauce, Tamarind, coconut milk, and Turmeric powder.
Q. What type of wine pairs best with Macanese cuisine?
Abraham Conlon and Adrienne Lo: At Fat Rice, we have an amazing Portuguese wine list that pairs with the rich and bright flavors of our menu. Our wine list, developed by Craig Perman, features small producers that are passionate about making affordable, food friendly wines that are very drinkable.
Q. It's that time of year in Chicago when we all want to hibernate at home (and watch Check, Please!). Can you share a cocktail recipe from your bar menu that our readers can make at home?

Recipe from Annie Beebe-Tron, beverage manager at Fat Rice:
Caipirinha
Ingredients:
1 whole small lime
.75 oz. cane sugar syrup
2 oz. cachaça (Ypioca Crystal)
Optional: 1.5 oz. big red wine
Method:
Cut ends from lime and slice into quarters lengthwise. Cut each quarter horizontally into 3-5 half inch pieces (approximately the width of your pinkie nail). In a shaker, add all lime pieces, syrup, cachaça, and a full scoop of ice. If using a two piece shaker, it should fill the entire small tin.
Shake vigorously for 12-14 seconds (get your workout in for the day!). The ice should break up slightly and the liquid should become cloudy; this means the limes have been muddled enough to release their juices.
Pour entire contents of shaker into a stemless wine glass. If adding, carefully pour the red wine over top for a float effect. Add bubble straw and serve.
Stay tuned next week for three more great restaurants and some more inside dish right here on my blog!